Volcanic activity world-wide 31 July: updates for Kamchatka - Bezymianny, Gorely, Karymski, Kizimen, Sheveluch,
di, 31 jul 2012, 06:06
06:06 AM | DOOR: T
Volcanoes in Kamchatka have been relatively calm over the past week.
KVERT reports moderate seismicity and a thermal anomaly over
Bezymianny volcano
visible on satellite data.
Gorely (Kamchatka)
Moderate seismic unrest continues at Gorely volcano in southern Kamchatka.
Karymski (Kamchatka)
: Moderate seismicity of the volcano was registered, but no recent explosions.
Kizimen (Kamchatka)
volcano is still erupting, but the eruption has further decreased. KVERT reports moderate seismicity, gas and steam emission and incandescences above the lava flow and crater.
Sheveluch (Kamchatka)
: KVERT reports moderate seismicity, steaming and degassing, as well as a thermal anomaly visible on satellite data. the Tokyo VAAC reported that on 27 July an eruption produced an ash plume that rose to an altitude of 10.1 km (33,000 ft) a.s.l.
All other volcanoes in Kamchatka seem to be more or less calm at the moment.
Vorig nieuws
Meer op VolcanoDiscovery
Volcano Videos on YouTube
: Our YouTube channel: volcanic activity world-wide shown through videos taken during our volcano tours and expeditions complimented by some time-lapse videos from webcams.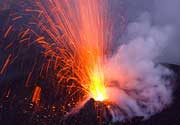 Climbing Stromboli volcano
: Stromboli provides one of the most remarkable opportunities to watch volcanic eruptions from close: a natural ridge located 150 m above the active vents. A classic and all-time favorite tour by anyone interested in seeing active volcanoes!