Volcanic activity worldwide 18 Feb 2014: Fuego, Tungurahua, Kelud
di, 18 feb 2014, 18:27
18:27 PM |
Steaming from Kelut this morning (new VSI webcam)
Current seismic signal of Fuego (FG3 station, INSIVUMEH)
Kelud (East Java)
: Activity has calmed down at the volcano. The
new VSI webcam
shows the outer crater area covered with heavy ash deposits and only a small steam plume from the crater.
The SO2 aerosol plume from the eruption is still well visible in the atmosphere on satellite data.
Fuego (Guatemala)
: Activity has been elevated yesterday, with more frequent moderate and strong explosions accompanied by rumbling degassing sounds and shock waves that could be noticed in up to 20-25 km distance. Ash plumes rose to 500-700 m. The observatory warns that another stronger eruptive phase could occur in the next days or weeks. The current seismic signal suggests, however, that the activity has been decreasing again.
Tungurahua (Ecuador)
: After the major eruptions on 1 Feb, the volcano continued to produce frequent (comparably) smaller explosions of strombolian to vulcanian type, sometime causing small pyroclastic flows. Ash falls have been mainly affecting areas in Penipe, south of the volcano. During the past days, activity has been decreasing overall.
IGP reports an earthquake swarm on 10 Feb, when a series of volcanic-tectonic quakes occurred under the northwestern flank of the volcano between Pondoa and Juive Grande. The earthquakes were at depths between 10 and 11 km below the crater and measured up to magnitude of 3.0 on the Richter scale. The largest were widely felt in villages around the volcano.
... [read more]
Vorig nieuws
Meer op VolcanoDiscovery
Volcano Videos on YouTube
: Our YouTube channel: volcanic activity world-wide shown through videos taken during our volcano tours and expeditions complimented by some time-lapse videos from webcams.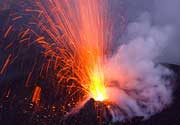 Climbing Stromboli volcano
: Stromboli provides one of the most remarkable opportunities to watch volcanic eruptions from close: a natural ridge located 150 m above the active vents. A classic and all-time favorite tour by anyone interested in seeing active volcanoes!