Volcanic activity worldwide 15 May 2014: Santa María / Santiaguito, San Miguel, Shishaldin, Merapi,...
do, 15 mei 2014, 21:00
21:00 PM |
Small pyroclastic flow at Sinabung on the morning of 13 May
Shishaldin volcano yesterday evening (AVO webcam)
Microseismic activity at Chaparrastique volcano (SNET)
Sinabung (Sumatra, Indonesia)
:
(15 May
) Activity at the volcano remains weak. Slow lava extrusion continues along with occasional ash venting and small pyroclastic flows triggered by collapse of parts of the viscous lava lobe on the southern flank.
Merapi (Central Java, Indonesia)
: PVMBG reported that during 2-8 May white plumes rose as high as 650 m above Merapi. Thumping noises continued to be reported from multiple observation posts. Seismicity fluctuated but remained above background levels.
The Alert Level remained at 2 (on a scale of 1-4) on 29 April. (Smithsonian / USGS Weekly Volcanic Activity Report 7-13 May 2014)
Dukono (Halmahera)
:
(15 May
) Activity at the volcano seems to be increasing - the sighting of ash plumes on satellite imagery has become a daily job of VAAC Darwin's watchful crew. This morning, a volcanic ash plume at estimated 10,000 ft (3 km) altitude extended 25 nautical miles from the volcano to the south.
Shishaldin (United States, Aleutian Islands)
:
(15 May
) The Alaska Volcano Observatory believed that the activity at the volcano has a bit increased. Satellite data show persistent high temperatures in the summit crater which could be lava flows, or even a small lava lake, likely produced by episodes of lava fountains.
The heat signals detected went along with increasing volcanic tremor detected.
There is no visual confirmation of such activity so far; webcam images only show a weak degassing plume, but these images are too distant to allow detailed interpretations. The aviation alert level remained at Orange.
Santa María / Santiaguito (Guatemala)
:
(15 May
) As expected, heavy rainfalls triggered a hot lahar (turbulent flow of mud, boulders and ash deposits mixed with water) that traveled down the Nima I river valley yesterday. The lahar carried lava blocks up to 2 m in diameter as well as many tree branches and trunks.
Abundant steam and sulfur gasses were released from the flowing masses. The lahar passed near the volcano observatory like a mix of "cement", where it let the ground vibrate, increased water content and speed as it reached the Samala river.
Similar rainfall could cause other lahars in the river San Isidro, the other important tributary of the Samala river. (INSIVUMEH)
San Miguel (El Salvador)
:
(15 May
) During the past 2 days, seismic activity at the volcano has shown a sharp increase after it had been gradually decreasing since late February.
The latest bulletins published by SNET suggest that the most likely expected eruption would be strombolian-type with associated lava flows, probably on the north side of the volcano.
... [read more]
Vorig nieuws
Meer op VolcanoDiscovery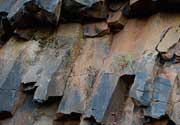 Igneous or magmatic rocks
: The most primitive rock type forms when magma (molten rock) solidifies - either inside the earth (plutonic rocks) or during volcanic eruptions (volcanic rocks). A short overview.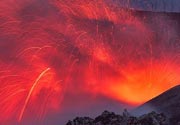 17 days volcano trekking
: This is one of our most exciting volcano tours! Halmahera, North Sulawesi and the Sangihe Islands are not only very scenic and interesting as well as nearly unspoiled by tourism, but also home to some of the country's most active (and often erupting) volcanoes, inclduing Dukono, Ibu, Lokon, Soputan and Karangetang.