Volcanic activity worldwide 24 May 2014: Kavachi, Dukono
za, 24 mei 2014, 21:00
21:00 PM |
Satellite images showing a discolored water plume from Kavachi (NASA, compiled and annotated by Culture Volcan)
Dukono (Halmahera)
: A volcanic ash plume extending 60 km west and at estimated 11,000 ft (3.3 km) altitude was spotted by VAAC Darwin this morning.
Kavachi (Solomon Islands)
: It is likely that some volcanic activity has continued intermittently at the undersea volcano after a discolored water plume was first spotted on 29 January this year.
Although no further signs of activity were visible on clear days after the first sightings, satellite images from 21 March and 8 May, compiled by
Culture Volcan
, showed again significant plumes originating from the volcano. This suggests that activity (if any) has been occurring in short-lived pulses rather than continuously.
Vorig nieuws
Meer op VolcanoDiscovery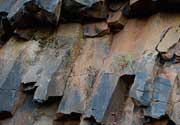 Igneous or magmatic rocks
: The most primitive rock type forms when magma (molten rock) solidifies - either inside the earth (plutonic rocks) or during volcanic eruptions (volcanic rocks). A short overview.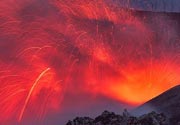 17 days volcano trekking
: This is one of our most exciting volcano tours! Halmahera, North Sulawesi and the Sangihe Islands are not only very scenic and interesting as well as nearly unspoiled by tourism, but also home to some of the country's most active (and often erupting) volcanoes, inclduing Dukono, Ibu, Lokon, Soputan and Karangetang.