Volcanic activity worldwide 31 May 2014: Etna, Sangeang Api, San Miguel
za, 31 mei 2014, 16:06
16:06 PM |
ash emission from Bocca Nuova this morning
Eruption column and pyroclastic flow over water at Sangeang Api yesterday (picture: Sofyan Efendi)
Etna (Sicily, Italy)
: Although tremor dropped significantly yesterday evening, mild strombolian activity from the New SE crater continued throughout the night. This morning, new ash emissions from the Bocca Nuova occurred again. Whether this announces a new phase of (different) activity will have to be seen...
Video from this night's activity:
Sangeang Api (Indonesia)
: Eruptions continue at the volcano after yesterday's major explosion. Dense ash plumes rising from the summit crater can be seen on this morning's satellite images, and a MODIS hot spot is visible on the latest satellite data, suggesting fresh magma continues to arrive at the volcano's summit crater.
In the meanwhile, the ash and SO2 plume has drifted and spread over more than 3000 km to the E and SE, covering a vast area that includes parts of northern and eastern Australia. All flights from Darwin airport have been cancelled because of the hazardous ash cloud.
... [read more]
San Miguel (El Salvador)
: Small ash emissions were reported at Chaparrastique volcano yesterday. Local observers heard rumblings and noticed ash fall in the area of Alpina Carreto.
Apart from a possible eruption, a major hazard is posed by mud slides and mud flows at the slopes of the volcano. Civil protection ordered new evacuations. According to local press, school classes were suspended in 12 schools located within 5 kilometers radius of Chaparrastique due to landslides in the area generated by the rains.
Vorig nieuws
Meer op VolcanoDiscovery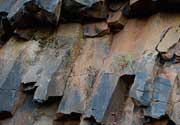 Igneous or magmatic rocks
: The most primitive rock type forms when magma (molten rock) solidifies - either inside the earth (plutonic rocks) or during volcanic eruptions (volcanic rocks). A short overview.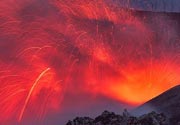 17 days volcano trekking
: This is one of our most exciting volcano tours! Halmahera, North Sulawesi and the Sangihe Islands are not only very scenic and interesting as well as nearly unspoiled by tourism, but also home to some of the country's most active (and often erupting) volcanoes, inclduing Dukono, Ibu, Lokon, Soputan and Karangetang.