Volcanic activity worldwide 2 Jun 2015: Pacaya volcano, Fuego, Dukono, Piton de la Fournaise, Gualla...
Tuesday Jun 02, 2015 16:23 PM |
Tremor during the eruption of Piton de la Fournaise volcano (OVPF)
Kuchinoerabu-jima (Ryukyu Islands)
: An analysis of the erupted ash from 29 May confirms that the explosion was, as suspected, phreatomagmatic in origin, i.e. driven by the presence of new magma interacting with external water.
The ash samples contained about 30% juvenile (fresh) lava fragments, while the rest were mostly altered older rocks. The ratio of fresh magma involved in the eruption has increased compared to the eruption last year on 3 August.
Dukono (Halmahera)
: An ash plume reaching approx. 10,000 ft (3 km) altitude and extending more than 100 km to the NW was visible on satellite imagery this morning (VAAC Darwin).
Wolf (Galápagos Islands, Ecuador)
: While no direct confirmation has been available from ground observations since 30 May, it seems plausible to assume, from satellite observations, that the eruption still continues and that the lava flow on the southeast flank of Wolf is still active and its front reaches near or into the sea.
The latest satellite-based imagery still show high SO2 emissions and a strong thermal anomaly in the area.
Source:
L'éruption du volcan Wolf semble se poursuivre
(Culture Volcan)
Pacaya (Guatemala)
: INSIVUMEH reported degassing and occasional ash emissions that rise approx. 200 m above the Mackenney crater. This is likely a sign of weak, dee-seated strombolian activity from a vent inside the crater.
Fuego (Guatemala)
: Activity remains relatively intense, with frequent strombolian-type explosions ranging from small to strong, according to the volcano observatory. Incandescent material is ejected up to 150 m above the crater and ash plumes rise up to 1 km.
Most explosions are accompanied by shock waves that rattle windows and doors in nearby villages.
Guallatiri (Northern Chile, Bolivia and Argentina)
: Elevated seismic activity since the night 30-31 May triggered SERNAGEOMIN to raise the alert level of the volcano to "yellow".
A swarm 22 earthquakes related to internal rock fracturing, possibly caused by rising magma, was registered shortly after midnight 30-31 May. A magnitude 3.7 quake occurred at 05:17 local time the next morning.
At the same time, slight deformation of the summit area of the volcano was detected as well, which would be consistent with a new magma intrusion at depth. No other changes (such as increased degassing, rock falls etc) have been noted.
Piton de la Fournaise (La Réunion)
: The most recent eruption (the second in 2015) ended during the evening of 30 May.
... [read more]
Vorig nieuws
Meer op VolcanoDiscovery: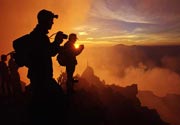 Volcano Trekking
: A physically active tour to visit and climb some of Indonesia's most active and famous volcanoes: Papandayan and Galunggung in West Java, Merapi in Central Java, Kelud, Semeru, Bromo, the Tengger caldera, and Ijen in East Java.