Volcanic activity worldwide 3 Sep 2015: Piton de la Fournaise volcano, Sakurajima
do, 3 sep 2015, 21:00
21:00 PM |
Sakurajima (Kyushu, Japan)
:
(3 Sep
) The alert level was downgraded back to 3 (out of 5) last Tuesday as signs of unrest and the risk of a sudden major explosion have decreased.
No rapid crustal movements have been detected since 17 August, suggesting that the inferred magma intrusion has stopped and is now stagnating & cooling instead of migrating further towards the surface.
The volcano continues to be unusually calm with only minor explosions and ash emissions occurring occasionally from the Showa crater.
Piton de la Fournaise (La Réunion)
:
(3 Sep
) The eruption continues at weak intensity. As of yesterday, only one vent, a cone about 20 m high, remained active producing pulsating fountain-like strombolian explosions of bursting lava bubbles that reach 15-20 m height.
The lava flows approx. 50 m through a tube and then forms a flow extending about 1 km to the south, with an average thickness of 2-3 meters. The front of the flow was not moving yesterday.
Vorig nieuws
Meer op VolcanoDiscovery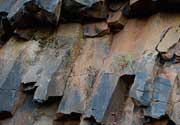 Igneous or magmatic rocks
: The most primitive rock type forms when magma (molten rock) solidifies - either inside the earth (plutonic rocks) or during volcanic eruptions (volcanic rocks). A short overview.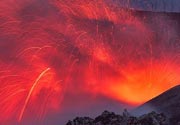 17 days volcano trekking
: This is one of our most exciting volcano tours! Halmahera, North Sulawesi and the Sangihe Islands are not only very scenic and interesting as well as nearly unspoiled by tourism, but also home to some of the country's most active (and often erupting) volcanoes, inclduing Dukono, Ibu, Lokon, Soputan and Karangetang.