Volcanic activity worldwide 8 Sep 2015: Gamalama volcano
di, 8 sep 2015, 21:00
21:00 PM |
Ash plume from this morning's eruption at Gamalama volcano (image: Leopold Kennedy Adam ‏@LeopoldAdam / twitter)
Gamalama (Halmahera)
: A new eruption occurred at the volcano this morning at 07:53 local time. An explosion produced an ash plume that rose approx. 1.5 km above the summit and drifted NE and dispersed quickly. The Ternate airport was temporarily closed.
It is not clear whether the explosion was involving fresh magma or only phreatic in origin (driven by steam). The official alert level of the volcano remains at 2 (on a scale from 1 to 4) and an exclusion zone of 1.5 km radius around the summit is in place.
Vorig nieuws
Meer op VolcanoDiscovery
Volcano Videos on YouTube
: Our YouTube channel: volcanic activity world-wide shown through videos taken during our volcano tours and expeditions complimented by some time-lapse videos from webcams.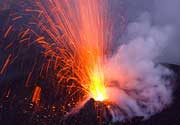 Climbing Stromboli volcano
: Stromboli provides one of the most remarkable opportunities to watch volcanic eruptions from close: a natural ridge located 150 m above the active vents. A classic and all-time favorite tour by anyone interested in seeing active volcanoes!