Volcanic activity worldwide 4 Jun 2016: Kliuchevskoi volcano, Yellowstone
za, 4 jun 2016, 21:00
21:00 PM |
The lava flow of Klyuchevskoy volcano on 2 June 2016 (KVERT webcam)
Kliuchevskoi (Kamchatka)
: The effusion of a lava flow on the southeastern flank of the volcano continues with little changes. A second flow branch has recently made its appearance.
For now, no significant explosive activity is present, although this could of course change quickly (as often has in the past). A strong thermal signal is visible on satellite data.
Yellowstone (Wyoming, USA)
: The activity at the caldera (seismicity, deformation, degassing etc) remains at normal levels. Despite continuing rumors and fear-mongering media (unsupported by facts), there is currently no sign to believe that the so-called "supervolcano" is about to erupt violently anytime soon.
The USGS Yellowstone Volcano Observatory (YVO) who monitors the caldera's seismic activity, its ground deformation and other geophysical parameters very closely maintains therefore Yellowstone's current status level at "green" = "normal" - actually, the most typical state of any of the world's thousands of active volcanoes.
... [read more]
Vorig nieuws
Meer op VolcanoDiscovery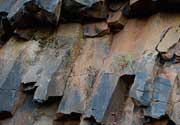 Igneous or magmatic rocks
: The most primitive rock type forms when magma (molten rock) solidifies - either inside the earth (plutonic rocks) or during volcanic eruptions (volcanic rocks). A short overview.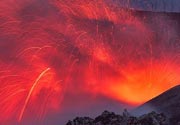 17 days volcano trekking
: This is one of our most exciting volcano tours! Halmahera, North Sulawesi and the Sangihe Islands are not only very scenic and interesting as well as nearly unspoiled by tourism, but also home to some of the country's most active (and often erupting) volcanoes, inclduing Dukono, Ibu, Lokon, Soputan and Karangetang.