Volcanic activity worldwide 18 Jun 2016: Santiaguito volcano, Kliuchevskoi, Sinabung, Canlaon, Zavod...
za, 18 jun 2016, 16:26
16:26 PM |
Map of today's active volcanoes
Steam and ash plumes from Kliuchevskoy volcano this morning (KVERT webcam)
Eruption of Kanlaon volcano yesterday (PHILVOLCS)
Pyroclastic flow (glowing avalanche) at Sinabung this morning (00:40 local time) (photo: Endro Lewa / facebook)
Map of Kilauea's new lava flow headed SE (map: HVO)
Eruption of Santiaguito yesterday (photo: Carlos Gonzales / @stereo100xela / twitter)
Ash emission from Bristol volcano on 15 June (Aqua/MODIS/NASA via South Sandwich Islands Volcano Monitoring Blog)
Steam plume from Zavodovski Island on 13 June 2016 (Terra / NASA via South Sandwich Islands Volcano Monitoring Blog)
Kliuchevskoi (Kamchatka)
: The effusive and mildly explosive eruption of the volcano continues with no significant changes. Regular strombolian explosions in the summit crater often produce small puffs of steam and ash that can be seen drifting from the volcano.
Two lava flows remain active on the southeastern side of the stratovolcano.
Canlaon (Central Philippines)
: The volcano remains restless. A small explosion occurred Saturday morning at 09:19 local time.
According to PHILVOLCS, the eruption which lasted less than 30 minutes was entirely steam-driven (phreatic or hydrothermal), i.e. caused by overheated ground water flashing into steam inside the hydrothermal system overlying a (probably small) body of magma, but no magma itself was projected to the surface.
... [read more]
Sinabung (Sumatra, Indonesia)
: The volcano continues to erupt with little changes - effusing viscous lava at slow pace and feeding a prominent lava lobe on the SE flank.
A small collapse of parts of this last night caused an incandescent avalanche documented by avid Sinabung volcano-follower and photographer
Endro Lewa
.
Kilauea (Hawai'i)
: HVO reports no significant changes in the eruption.
The new lava flow headed to the SE from Pu'u O'o continues to advance fast. During the past week, it made progress of 1200 meters, i.e. on average almost 200 m per day.
... [read more]
Santiaguito (Guatemala)
: Following a relatively calm period of 3 weeks (no significant eruptions since 25 May), a powerful vulcanian explosion occurred at the Caliente lava dome again yesterday at 09:15 local time, sending an mushroom-shaped eruption column approx. 5 km into the sky.
Pyroclastic flows descended the base of the cone and ash falls occurred in downwind areas (as usual) to the west and southwest, including the towns and villages of Loma Linda, San Marcos Palajunoj, San Felipe Retalhuleu, El Nuevo Palmar and others. No evacuations were ordered and no significant damage was reported.
Bristol Island (United Kingdom, South Sandwich Is)
: The eruption continues, but seems to have lost energy recently: satellite images still show ash plumes drifting from the remote island, but these have been less intense during the past week.
Zavodovski (South Sandwich Islands (UK))
: A significant steam plume emitted from the volcano continues to be visible on satellite imagery, suggesting that the volcano is not completely calm, and might even show some sort of mild activity.
Vorig nieuws
Meer op VolcanoDiscovery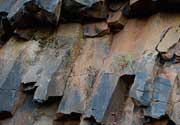 Igneous or magmatic rocks
: The most primitive rock type forms when magma (molten rock) solidifies - either inside the earth (plutonic rocks) or during volcanic eruptions (volcanic rocks). A short overview.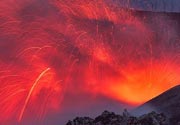 17 days volcano trekking
: This is one of our most exciting volcano tours! Halmahera, North Sulawesi and the Sangihe Islands are not only very scenic and interesting as well as nearly unspoiled by tourism, but also home to some of the country's most active (and often erupting) volcanoes, inclduing Dukono, Ibu, Lokon, Soputan and Karangetang.