Ojos del Salado volcano
Updated: Jul 5, 2022 06:51 GMT -
Refresh
stratovolcano 6887 m / 22,595 ft
Northern Chile / Argentina, -27.12°S / -68.55°W
Current status: normal or dormant (1 out of 5)
Last update: 2 Mar 2022

Ojos del Salado volcano in February 2012 (Photo: Ulla Lohmann)
Nevados Ojos del Salado is the world's highest active volcano. It is located on the Chile/Argentina border, about 20 km south of the road that crosses Argentina-CHile border at Paso de San Francisco.
The mountain has very dry conditions with snow only remaining on the peak during winter. The volcano contains two summit peaks of the same height.
A large explosive eruption took pleace about 1000-1500 years ago and produced pyroclastic flows.
Ojos del Salado is still active and has fumarolic activity at present, but there are no confirmed historical eruptions of Ojos del Salado. A report of minor gas-and-ash emission in 1993 could not be confirmed. The volcano currently shows fumarolic activity.
Typical eruption style:
explosive
Ojos del Salado volcano eruptions:
1993 (?), 700 AD ± 300
Lastest nearby earthquakes:
No recent earthquakes
Background
from Smithsonian / GVP volcano information:
The summit complex, which is elongated in a NE-SW direction and overlies a largely buried caldera, contains numerous craters, pyroclastic cones and andesitic-to-rhyolitic lava domes and has been the source of Holocene lava flows. A major rhyodacitic explosive eruption took place about 1000-1500 years ago, producing pumiceous pyroclastic flows. The most recent eruptive activity of Ojos del Salado appears to have originated along a NNE-trending rift along the summit complex. It involved formation of a thick, viscous lava flow and at least a dozen small cones, lava domes, and explosion craters. No confirmed historical eruptions of Ojos del Salado have been recorded, but the volcano has displayed persistent fumarolic activity, and there was an unconfirmed report of minor gas-and-ash emission in 1993.
Ojos del Salado Photos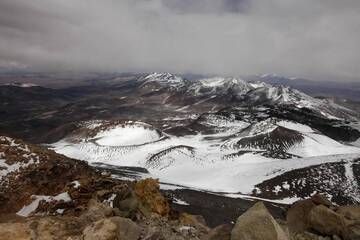 View from the highest Volcano in the world: Snow-covered craters (Photo: ulla)
On top of the world... Our team member Ulla Lohmann is happy to have reached the world's highest volcano with almost 7000 m.
Ojos del Salado at 6893 m is the highes...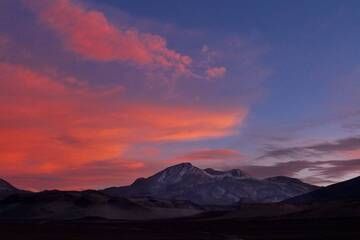 Ojos del Salado, the highest volcano in the world: 6893 m (Photo: ulla)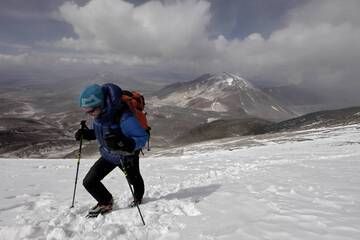 Basti Hofmann traverses a snow field with crampons at 6500m altitude (Photo: ulla)

See also: Sentinel hub | Landsat 8 | NASA FIRMS