Volcano news: Pacaya (Guatemala)
Pacaya volcano (Guatemala) activity update
Thu, 20 Dec 2012, 11:05
11:05 AM | BY: T
During the past 48 hours no more activity has been observed. The small explosions on 18 Dec have left a small crater. At the moment, the volcano is emitting a light bluish gas and steam plume only.
Previous news
More on VolcanoDiscovery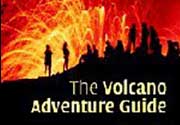 Excellent information for anyone wishing to visit and enjoy active volcanoes safely. Detailed guidelines to 42 different volcanoes around the world.