Pago volcano
caldera 742 m / 2,434 ft
New Britain Island, Papua New Guinea, -5.58°S / 150.52°E
Current status: normal or dormant (1 out of 5)
Last update: 8 May 2012 (strong ash eruptions, plumes up 13.7 km (40,000 ft))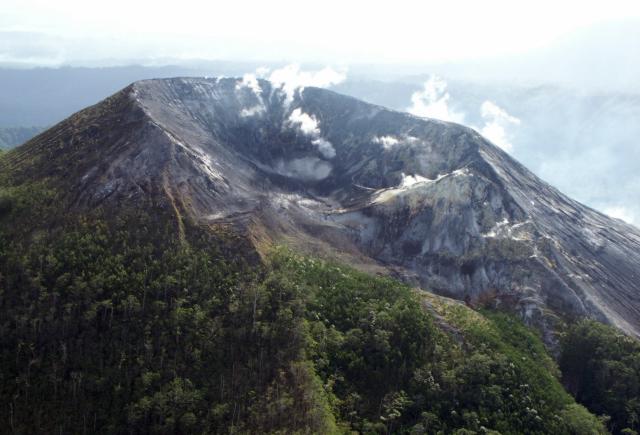 A close-up photo of Pago's ravaged summit crater taken from the N on 16 September 2002. (Photo: USGS)
Pago volcano is located in the Cape Hoskins area of New Britain, Papua New Guinea. It belongs to the larger complex of Witori volcano and represents the post-caldera cone of the latter.
Pago is probably only 350 years old.
The typical historical activity at Pago volcano were strombolian to vulcanian explosions, sometimes accompanied by slow lava flows. A series of 10 dacitic lava flows from Pago cover much of the caldera floor.
Typical eruption style
: explosive
Pago volcano eruptions
: 2007, 2004(?), 2002-03, 1933, 1920, 1911-18, 750(?), 420, 640BC, 1350 BC(?), 3650 BC(?), 7150 BC
| | | |
| --- | --- | --- |
| Time | Mag. / Depth | Distance/Location |
Background
The 250 m high and 300 m wide cone of Pago volcano reaches about the same height as the caldera rim. Pago and the 5.5 x 7.5 km caldera form a large volcanic complex, called the Witori volcano. The caldera formed probably around 3300 years ago. Witori volcano has long been recognized as active and is considered as a potential volcanic hazard.
The Buru caldera cuts the SW flank of Witori volcano. The gently sloping outer flanks of Witori volcano consist primarily of dacitic pyroclastic-flow and airfall deposits produced during a series of five major explosive eruptions from about 5600 to 1200 years ago, many of which may have been associated with caldera formation.
Pago Photos
Bartolomé island with many young cinder cones (Galapagos Islands) (Photo: Ursula Lehmann)
Cactus on Santiago volcano (Galapagos Islands) (Photo: Ursula Lehmann)
2007 eruption
Pago volcano erupted in August 2007. Residents heard "a single booming noise" on 27 August. On 28 August incandescent lava was ejected from one of the upper vents.
Source:
Smithsonian / GVP monthly reports
unconfirmed 2004 eruption
There were reports of 2 explosions on 24 February 2004, but these could not confirmed and are not believed to be true (Smithsonian / GVP)
2002-03 explosive & effusive eruption
An eruption began at Pago volcano on 3 August 2002, after several months of reports of vegetation dying off at the summit. The eruption opened several vents on a new fissure extending NW from the summit. In the first days, large explosions produced tall ash plumes up to 10 km high, and caused severe problems due to ash fall.
In the following effusive phase, several lava flows were erupted. The eruption declined, but went on for more than a year until it ended sometime in October 2003. ...
more

See also: Sentinel hub | Landsat 8