Santo Tomas volcano
Updated: Dec 10, 2022 09:51 GMT
-
stratovolcano 2260 m / 7,415 ft
Luzon Island (Philippines), 16.33°N / 120.55°E
Current status: normal or dormant (1 out of 5)
Santo Tomas volcano on Luzon Island, Philippines, is one of the highest stratovolcanoes of the country. It has many volcanic vents and fissures.
A report about an eruption or "displacement" in the region on January 4, 1641, described as an outburst of water accompanied by an earthquake, probably is related to the major eruption of Parker volcano in southern Mindanao on the same day.

Note: another volcano with the same name exists in Guatemala.
Typical eruption style:
explosive
Santo Tomas volcano eruptions:
unknown
Latest nearby earthquakes
Time
Mag. / Depth
Distance/Location
Saturday, December 3, 2022 GMT (1 quake)
Dec 4, 2022 5:32 am (GMT +8)

(Dec 3, 2022 21:32 GMT)




1.6


25 km
37 km (23 mi)
Philippines: 008 Km N 23° W of Calasiao (Pangasinan)
Monday, November 28, 2022 GMT (1 quake)
Nov 29, 2022 2:00 am (GMT +8)

(Nov 28, 2022 18:00 GMT)




1.6


18 km
27 km (17 mi)
Philippines: 005 Km S 89° W of Kapangan (Benguet)
Sunday, November 27, 2022 GMT (1 quake)
Nov 28, 2022 5:01 am (GMT +8)

(Nov 27, 2022 21:01 GMT)




2.9


6 km
16 km (9.9 mi)
28 km east of Urdaneta, Province of Pangasinan, Ilocos, Philippines
Santo Tomas Photos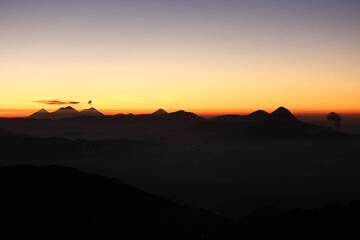 10. Distant View Of The Volcanoes From The Summit Of Volcan Tajumulco 4220m At Sunrise - From Right To Left - Santaguito (Erupting), Santa Maria, Santo Tomas, Zunil, Atit...




See also: Sentinel hub | Landsat 8 | NASA FIRMS