Illustrated Volcano Glossary
Volcanology

Lava flows are almost self-explanatory. When magma is erupted in molten or a partially molten state it often has the ability to flow. This is typically the case for basaltic volcanoes such as Hawaii and Etna whose lavas are relatively fluid. Lava flows might form either as primary flows directly flowing out of a vent from the vent or by rapid aggregation of hot fluid spatter that fall back from lava fountains to form a flow.

The appearance of lava flows can vary greatly with chemistry, flow rate, strain rate, temperature, viscosity and other factors. The most simple division can be made between aa lava that usually has a blocky appearance, since the surface of the flow breaks into spiny or blocky pieces, and pahoehoe lava flows, which form a smooth surface and often produce spectacular ropy textures.
More on VolcanoDiscovery
If you find the website useful and would like to support us and help keep it alive and improve it, please consider
making a small donation
.
Thank you!
Volcano Videos on YouTube
: Our YouTube channel: volcanic activity world-wide shown through videos taken during our volcano tours and expeditions complimented by some time-lapse videos from webcams.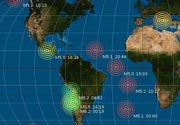 Monthy earthquake reports
: For each month since July 2012, we publish a summary of quake activity world-wide: find the list of largest quake, a map showing all significant quakes as well as detailed statistics on seismic activity during this time.
Sakurajima volcano photos
: One of the world's most active volcanoes, Sakurajima on Japan's Kyushu Island is famous for its frequent vulcanian explosions, often accompanied by eruption lightning.