Danakil expedition Nov-Dec 2010: tour photos
Photos taken between Addis Ababa, the Danakil desert and Mekele town Nov-Dec 2010.
More on VolcanoDiscovery: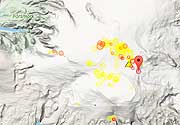 Latest quakes at Katla volcano
: One of Iceland's most active and dangerous volcanoes is showing signs of unrest and statistically due for a new eruption. Earthquakes could give a clue.