Vote
[?]
Copyright: Tom PfeifferContact: Email
File: erta_ale_i9336.jpg | Hits |
+ 6 similar images
More on VolcanoDiscovery:
If you find the website useful and would like to support us and help keep it alive and improve it, please consider
making a small donation
.
Thank you!
One of the world's most famous volcanoes looming over the City of Naples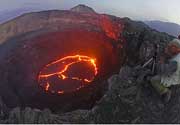 Desert, Salt & Volcanoes
: One of our best volcano expeditions! Stay 3 full days / nights at the active lava lake of Erta Ale, explore the wonders of Dallol and the Danakil desert in northern Ethiopia. 14 days expedition during Nov-March, small groups, guided by geologist.
Latest quakes in Greece
: Greece has a lot of earthquake activity, but most of them occur around the margin of the Aegean microplate. The Cycladic islands are located in its center and therefore seismically comparably quiet.