Fuego volcano Dec 2015 - strong strombolian activity and pyroclastic flow deposits
Our recent
Guatemala volcano tour
coincided with the beginning of another (the 14th in 2015) paroxysm at Fuego volcano, which we observed from close during 29 Dec - 1 Jan. We used two different viewpoints at the base of the volcano, at approx. 5 and 7 km distances: first from near the INSIVUMEH volcano observatory (SW flank, first 3 rows of pictures), and from the SE (last pictures). The latter was chosen instead of initially planned Acatenango because of very bad weather and the presence of a new lava flow on that side.
Many thanks for support goes to the friendly staff from OVFGO/INSIVUMEH, in particular Edgar Barrios!
More on VolcanoDiscovery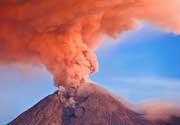 Merapi volcano photos
: One of the most active and most dangerous volcanoes of Indonesia: Merapi meaning "the one who makes fire", is a feared but also venerated holy mountain looming over the city of Yogyakarta, capital of Central Java.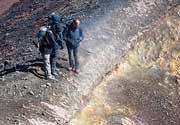 Private tours on Etna volcano
: Discover Europe's largest active volcano on private, guided 1-day tours. Tours can be customized for different interests and fitness levels.