Vote
[?]
Copyright: Ronny Quireyns
Contact: Email
File: VAN_MAY2009_00257.jpg | Hits
More on VolcanoDiscovery
Guatemala photos
: Guatemala - a land of volcanoes and the colorful Mayan culture with incredible variety. A dream destination for volcano enthusiasts and photographers!
Best tours to see lava
: Visiting an erupting volcano is an unforgettable experience. If you're particularly looking to see "Red Hot Lava", these are among the best places to go to.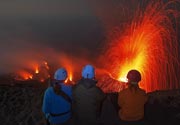 VolcanoDiscovery tours
: A selection of our most popular trips, which we have been offering and improving over many years now: Stromboli & Etna, Santorini, Java, Ethiopia, Nyiragongo and more. Have a look!