Piton de la Fournaise volcano news & updates:
Piton de la Fournaise volcano (La Réunion): signs of unrest, volcano might be heading for new eruption
Saturday Jul 16, 2016 10:18 AM | BY: T
The volcano is showing signs of unrest that could be (but not necessarily) precursors of a new eruption. Since the beginning of the month, shallow (0-2 km depth) volcanic earthquakes of rock-fracturing type under the Dolomieu crater (the main vent of the volcano) have been more frequent, probably caused by a new magma intrusion.
The volcano observatory's (OVPF) latest statement mentions that 111 "collapses" have occurred recently on the Dolomieu crater, the Enclos and on the lava flow of Aug-Oct 2015.
In addition, it seems that new deformation has started during the past days, which would fit into the picture that the volcano is likely preparing itself for a new eruption, although the trend was still unclear and needs to be confirmed.
Gas emissions have not shown any significant variation above background levels.
---
Links / Sources:
Previous news
More on VolcanoDiscovery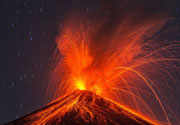 Fuego volcano photos
: One of Central America's most active volcanoes, Fuego in Guatemala is in near-permanent explosive eruption with intermittent phases of increasing activity that generate lava fountains, lava flows and pyroclastic flows.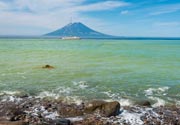 Kuril Islands expedition
: The Kuril islands form one of the most active volcanic chains in the world, but are very difficult to access. From time to time, we organize expeditions to some of these remote and still unspoiled islands. Adventure guaranteed!