Piton de la Fournaise volcano news & updates:
Piton de la Fournaise volcano (La Réunion Island): increased seismic activity
Tuesday Jan 14, 2020 11:23 AM | BY: MARTIN
Dolomieu crater today (image: OVPF)
OVPF reported that the seismic station recorded during
31 December-8 January
increased seismic activity under the summit craters. They recorded
112 volcano-tectonic earthquakes.
On 12 January
between at 22:17 and 22:24 local time was recorded a new seismic activity
(41 volcano-tectonic earthquakes).
This seismic events show that magmatic reservoir continues to be pressurize. This pressurization process can last several days to several weeks before the tank roof weakens and breaks what leads to arrive the magma in the summit crater.
Source: Observatoire volcanologique du Piton de la Fournaise volcano activity update 14 January 2020
Previous news
More on VolcanoDiscovery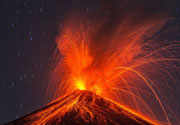 Fuego volcano photos
: One of Central America's most active volcanoes, Fuego in Guatemala is in near-permanent explosive eruption with intermittent phases of increasing activity that generate lava fountains, lava flows and pyroclastic flows.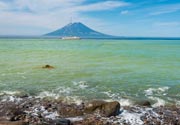 Kuril Islands expedition
: The Kuril islands form one of the most active volcanic chains in the world, but are very difficult to access. From time to time, we organize expeditions to some of these remote and still unspoiled islands. Adventure guaranteed!