Popocatepetl volcano news & eruption update
Popocatépetl volcano (Central Mexico) activity update
Thu, 25 Apr 2013, 15:40
15:40 PM | BY: T
Steam plume rising from Popocatétpel today
A moderate-sized explosion occurred yesterday, producing an ash plume rising 1.2 km and throwing incandescent bombs to 500 m distance on the outer flanks of the volcano. Small explosions occur at an average rate of one per hour and a large steam plume is often rising to about 1 km above the crater. Incandescence continues to be visible at night at the crater.
Small volcano-tectonic earthquakes have been relatively frequent during the past days as well.
Background:
Volcán Popocatépetl, whose name is the Aztec word for smoking mountain, towers to 5426 m 70 km SE of Mexico City to form North America's 2nd-highest volcano.  The glacier-clad stratovolcano contains a steep-walled, 250-450 m deep crater.  The generally symmetrical volcano is modified by the sharp-peaked Ventorrillo on the NW, a remnant of an earlier volcano. 
At least three previous major cones were destroyed by gravitational failure during the Pleistocene, producing massive debris-avalanche deposits covering broad areas south of the volcano.  The modern volcano was constructed to the south of the late-Pleistocene to Holocene El Fraile cone.  Three major plinian eruptions, the most recent of which took place about 800 AD, have occurred from Popocatépetl since the mid Holocene, accompanied by pyroclastic flows and voluminous lahars that swept basins below the volcano.  Frequent historical eruptions, first recorded in Aztec codices, have occurred since precolumbian time.
---
Source: GVP, Smithsonian Institution - Popocatepetl information
More on VolcanoDiscovery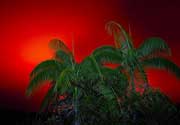 Ambrym+Yasur volcanoes in Vanuatu
: An adventurous expedition to some of the most spectacular and active volcanoes in the world! Our volcano expedition to Vanuatu lets you spend 1 week on Ambrym with its multiple active lava lakes and 4 days on Yasur, famous for its spectacular fireworks. Guided by professional volcanologist, small groups (May-Sep).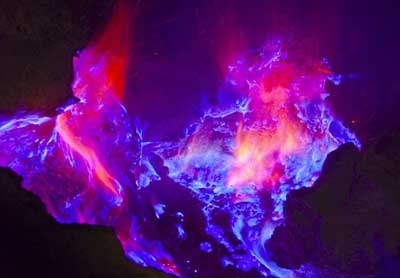 Blue flames of burning sulfur
: Ijen volcano in East Java has one of the most impressive sulfur deposits on earth. They are so hot that the sulfur often ignites - a mysterious display at night caught on camera.