Puyehue-Cordón Caulle volcano
Updated: Feb 5, 2023 00:54 GMT
-
stratovolcano 2236 m / 7,336 ft
Central Chile and Argentina (South America), -40.59°S / -72.12°W
Current status: normal or dormant (1 out of 5)
Last update: 24 Jan 2023 (Volcanic Ash Advisory)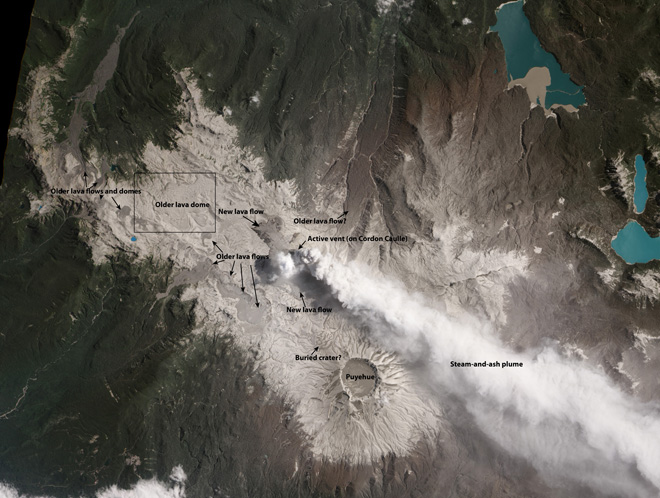 Puyehue-Cordón Caulle with the steam and ash plume from the rift zone eruption seen from space on 26 January 2012 (NASA Earth Observatory)
Puyehue-Cordón Caulle volcano in Central Chile is a complex of 2 volcanoes: Puyehue volcano and the fissure system of Cordón Caulle. Puyehue volcano has a 2.4 km wide summit caldera, but historical eruptions occurred at the Cordón Caulle rift zone.
The Cordón Caulle geothermal area occupies a 6 x 13 km wide depression and is the largest active geothermal area in the southern Andes.
Neighboring Calbuco and Puyehue volcanoes lie on the same traverse fault and is has been noted that they tend at the same time or within only few years distance.
Typical eruption style:
explosive
Puyehue-Cordón Caulle volcano eruptions:
2011 (4 June)- 2012, 1960, 1934, 1929, 1921-22, 1905(?), 1893(?)
Latest nearby earthquakes
No recent earthquakes
Background
The Puyehue-Cordón Caulle volcanic complex (PCCVC) is a large NW-SE-trending late-Pleistocene to Holocene basaltic-to-rhyolitic transverse volcanic chain SE of Lago Ranco.
The 1799-m-high Pleistocene Cordillera Nevada caldera lies at the NW end, separated from Puyehue stratovolcano at the SE end by the Cordón Caulle fissure complex. The Pleistocene Mencheca volcano with Holocene flank cones lies NE of Puyehue.
The basaltic-to-rhyolitic Puyehue volcano is the most geochemically diverse of the PCCVC. The flat-topped, 2236-m-high Puyehue volcano was constructed above a 5-km-wide caldera and is capped by a 2.4-km-wide summit caldera of Holocene age.
Lava flows and domes of mostly rhyolitic composition are found on the eastern flank of Puyehue. Historical eruptions originally attributed to Puyehue, including major eruptions in 1921-22 and 1960, are now known to be from the Cordón Caulle rift zone.
---
Source: USGS / GVP



1960 eruption following the great Chile earthquake
Puyehue-Cordón Caulle Volcano started erupting on 24 May 1960. It is possible, that the eruption was triggered by the great earthquake in Chile (magnitude 9.5; the largest measured earthquake in history) on 22 May 1960. The eruption started with a powerful explosive (subplinian) phase, which formed an ash column 8 km high.




2011 eruption of Puyehue-Cordón Caulle

A new eruption started at the complex of Puyehue-Cordón Caulle volcano in Chile on Saturday 4 June 2011 after 51 years of inactivity.

...

more


See also: Sentinel hub | Landsat 8 | NASA FIRMS