Rabaul (Tavurvur) volcano
Updated: Jun 2, 2023 01:23 GMT
-
caldera 688 m / 2,257 ft
New Britain, Papua New Guinea, -4.27°S / 152.2°E
Current status: normal or dormant (1 out of 5)
Last update: 8 Dec 2021 (Smithsonian / USGS Weekly Volcanic Activity Report)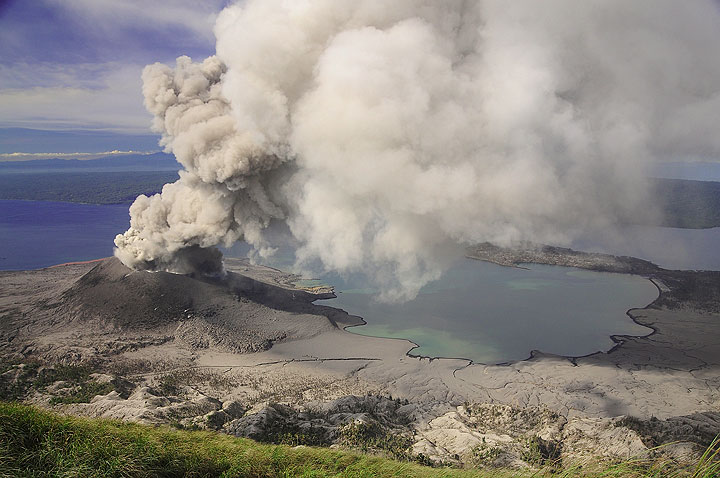 Eruption of Tavurvur volcano (Rabaul caldera) (Photo: Paul Nicholsn)
Rabaul volcano is one of the most active and most dangerous volcanoes in Papua New Guinea.
Rabaul exploded violently in 1994 and devastated the lively city of Rabaul. Since then, the young cone Tavurvur located inside the caldera has been the site of near persistent activity in form of strombolian to vulcanian ash eruptions.
The caldera has an elliptical form (14 x 9 km) and is surrounded by a steep volcanic ridge several hundred meters high.
Typical eruption style:
Explosive
Rabaul (Tavurvur) volcano eruptions:
2014, 2013, 1994-2011, 1943, 1941-42, 1940, 1937, 1878, 1850(?), 1791, 1767
Latest nearby earthquakes
No recent earthquakes
Background
Rabaul is the easternmost member of the volcanic Bismarck arc and located on the north eastern end of the Gazelle Peninsula at the NE end of New Britain. Thanks to its shape forming a sheltered harbor Rabaul city was the island's largest city prior to the major eruption in 1994.
The 8 x 14 km caldera was formed by at least 2 major eruptions. One about 7100 years ago formed Tavui caldera offshore to the north and a second eruption about 1400 years ago created the present-day shape. These plinian eruptions deposited thick tuff layers from pyroclastic flows that form the gentle outer slopes of the volcanic complex.
The caldera has a wide opening to the east where the sea forms Blanche Bay. 3 small stratovolcanoes lie N and NE outside the caldera. Volcanic activity inside the caldera since the last caldera-forming eruption produced various lavas ranging from basaltic to dacitic. Several vents have built cinder cones, including the historically very active Vulcan and Tavurvur. Other vents include Turanguna, Rabalanakia, Sulphur Creek, Kombiu ("mother"), and Beehives. In 1994, both Vulcan and Tavurvur erupted simulaneously, forcing the temporary abandonment of Rabaul city.
Rabaul (Tavurvur) Photos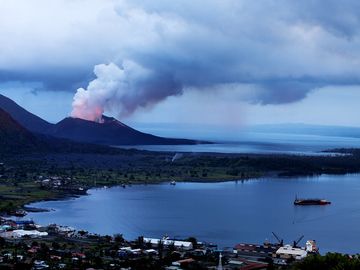 eruption and ashfall at tavurvur (Rabaul) 2011 (Photo: Tom222)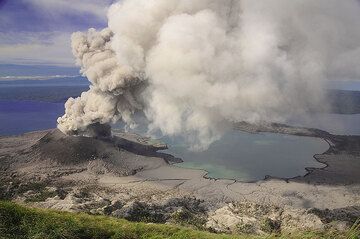 Ash-spewing Tavurvur volcano and the ash-covered Bay of Rabaul, Papua New Guinea (Photo: Paul Nicholson)




See also: Sentinel hub | Landsat 8 | NASA FIRMS