Red Lake Mountain volcano
Updated: Aug 12, 2022 16:30 GMT -
Refresh
Pyroclastic cone 2036 m / 6680 ft
California, United States, 40.57°N / -121.59°W
Current status: (probably) extinct (0 out of 5)
Typical eruption style:
unspecified
Red Lake Mountain volcano eruptions:
None during the past 10,000 years
Less than few million years ago (Pleistocene)
Lastest nearby earthquakes:
Time
Mag. / Depth
Distance/Location
Tuesday, August 2, 2022 GMT (1 quake)
Aug 2, 2022 6:39 am (GMT -7)

(Aug 2, 2022 13:39 GMT)




1.1


12 km
48 km (30 mi)
5km NNE of Millville, CA
Background
A massive lava Pleistocene lava flow from Red Lake Mountain cinder cone traveled nearly 30 miles (~45 km) to the west. The basaltic flow covers nearly 50 sq miles and has an estimated volume of 1-2 cu miles (Macdonald, 1963). Highway 44 traverses the flow.
---
Source: Smithsonian / GVP volcano information
Red Lake Mountain Photos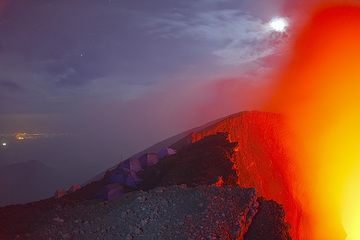 The lights of Goma town in the background left remind me of standing on Etna volcano and looking down to Catania... (Photo: Tom Pfeiffer)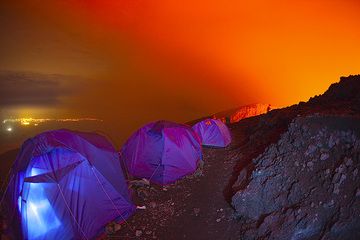 Time to wake up and enjoy the last hour of darkness before sunrise! As usual, Gilles is already up before all others and standing at the crater rim behind, to watch the l...
Nyiragongo volcano at night: Gilles in his favorite position, watching the fascinating movements of the lava lake at night for hours. The lights of Goma are visible in th...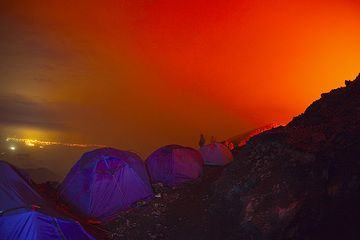 Our tents against the red sky and the lights of Goma town in the background. Two others are still awake, too, and visible as shadows behind the tents. (Photo: Tom Pfeiffe...

See also: Sentinel hub | Landsat 8 | NASA FIRMS