Redoubt volcano
Updated: Aug 13, 2022 22:15 GMT -
Refresh
stratovolcano 3108 m / 10197 ft
Cook Inlet (SW Alaska) (Alaska), 60.49°N / -152.74°W
Current status: normal or dormant (1 out of 5)
Last update: 14 Dec 2021 (M 4.6 earthquake near the volcano)

Large stratovolcano in Alaska ca. 100 mi west of Anchorage. Redoubt last erupted in 1989.
Typical eruption style:
Explosive
Redoubt volcano eruptions:
1881 (?), 1902, 1903, 1966, 1989, 2009
Lastest nearby earthquakes:
No recent earthquakes
Background
Redoubt is one of the most active and largest volcanoes in Alaska. It is a steep stratovolcano, measuring about 10 km at its base and rising to an elevation of 3108 m above sea level.
Its flanks are cut by valley created by glacial action. Redoubt has an ice filled summit crater, almost 2 km in diameter, which is breached to the north by Drift Glacier.
Redoubt Photos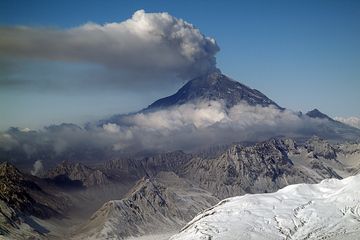 Redoubt volcano (Alaska): Fresh snow in the foreground strikingly contrasts with grey ash on the volcano's SE flank and peaks SE of it. (Photo: marcofulle)

See also: Sentinel hub | Landsat 8 | NASA FIRMS