Reventador volcano, Ecuador: news & activity updates
Reventador volcano (Ecuador): growing lava dome and change to more explosive eruption style
Tue, 20 Nov 2012, 11:05
11:05 AM | BY: T
Current seismic signal from CONE station (IG)
Reventador volcano's activity continues at elevated levels with the possibility of larger explosive eruptions and pyroclastic flows, according to the latest report of the Instituto Geofísico.
During the first months of 2012, the volcano started to produce lava flows and build up a new lava dome that has by now over-topped the Nov 2002 crater rim. Over the past months, there has been a steady in crease.
Steam plumes above the crater were mostly less than 500 m tall in the first months, they started to be larger since 4 Nov, when heights of the plume at times reached 3 km height during moderate ash explosions. In parallel, seismic activity increased as well.
From 16 Nov, seismicity increased again to higher energy levels and increased frequency of harmonic tremor pulses. This went along with the occurrence of emission columns containing ash that reached 4000 m above the summit and drifted mainly to the N and NW. Light ash falls occurred in areas located between the volcano and the town of Chaco.
IG notes that a gradual change in activity from effusive (lava flows) to a more explosive style can be observed, with more frequent ash explosions that could affect populated areas at greater distances from the volcano. This is thought to be caused by an influx of new magma into the system and could lead to a further increase of explosions with more ash content.
Additionally, explosions or gravitational collapse could destroy the lava dome and form dangerous pyroclastic flows, especially down the Marker and Reventador rivers and affect people and infrastructure located downstream in these areas.
---
Links / Sources:
Previous news
More on VolcanoDiscovery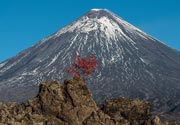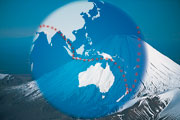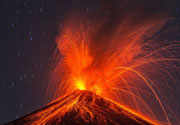 Fuego volcano photos
: One of Central America's most active volcanoes, Fuego in Guatemala is in near-permanent explosive eruption with intermittent phases of increasing activity that generate lava fountains, lava flows and pyroclastic flows.