Reventador volcano, Ecuador: news & activity updates
Reventador volcano (Ecuador): new strong eruptive phase
Thu, 24 Apr 2014, 21:02
21:02 PM | BY: T
Infrared images of Reventador volcano yesterday showing what could be a lava fountain and new lava flow (Annotations: Culture Volcan, images: IGPEN)
Seismic signal at Reventador volcano yesterday (CONE station, IGPEN)
A new phase of intense activity with possible lava fountains and new lava flows began at the volcano yesterday.
Over the past weeks, the volcano had been in a state of mild intermittent strombolian explosions, but experienced a rapid increase in activity yesterday after around 15:00 local time. Infrared webcam images (collected by Culture Volcan) suggest that a phase of lava fountaining or much stronger strombolian explosions took place. The apparent surge in lava emission also seems to have produced a new lava flow about 3-400 m long. This increase in activity is clearly visible in the corresponding seismic signal and likely continues at the moment.
---
Links / Sources:
Previous news
More on VolcanoDiscovery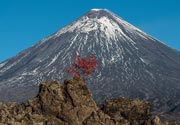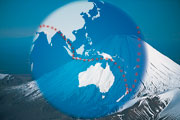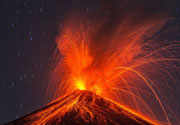 Fuego volcano photos
: One of Central America's most active volcanoes, Fuego in Guatemala is in near-permanent explosive eruption with intermittent phases of increasing activity that generate lava fountains, lava flows and pyroclastic flows.