Reventador volcano, Ecuador: news & activity updates
Reventador Volcano Volcanic Ash Advisory: ONGOING VA EMS to 16000 ft (4900 m)
Fri, 12 Jul 2019, 04:15
04:15 AM | BY: VN
Explosive activity continues. Volcanic Ash Advisory Center (VAAC) Washington warned about a volcanic ash plume that rose up to estimated 16000 ft (4900 m) altitude or flight level 160 .
The full report is as follows:
FVXX21 at 04:10 UTC, 12/07/19 from KNES
VA ADVISORY
DTG: 20190712/0407Z
VAAC: WASHINGTON
VOLCANO: REVENTADOR 352010
PSN: S0004 W07739
AREA: ECUADOR
SUMMIT ELEV: 11686 FT [3562 M]
ADVISORY NR: 2019/748
INFO SOURCE: GOES-EAST. WEB CAM. NWP MODELS.
VOLCAT.
ERUPTION DETAILS: ONGOING VA EMS
OBS VA DTG: 12/0350Z
OBS VA CLD: SFC/FL160 N0001 W07837 - S0004 W07739
- S0005 W07738 - S0015 W07837 - N0001 W07837 MOV
W 15KT
FCST VA CLD +6HR: 12/1000Z SFC/FL160 S0001 W07848
- S0004 W07739 - S0005 W07739 - S0020 W07847 -
S0001 W07848
FCST VA CLD +12HR: 12/1600Z SFC/FL160 NO ASH EXP
FCST VA CLD +18HR: 12/2200Z NO ASH EXP
RMK: DISCRETE VA EM VISIBLE IN STLT IMAGERY MOV W
FM SUMMIT FL160. NWP MODEL GUIDANCE AGREES WELL
WITH OBS TRAJECTORY. ...BOLL
NXT ADVISORY: WILL BE ISSUED BY 20190712/1000Z
More on VolcanoDiscovery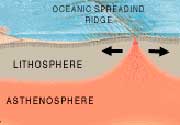 Divergent plate boundaries in oceans
: Two ocean plates move apart from each other. Hot upwelling mantle material forms magmas that continuously produce new oceanic crust. An ocean widens.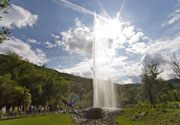 Photos from Germany
: Germany has a large number of volcanoes - most of them extinct, but the Eifel volcanic field is still potentially active.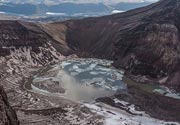 Gorely volcano photos
: Gorely is a young and very active shield volcano in southern Kamchatka. It is one of Kamchatka's easiest volcanoes to climb and offers stunning views into vast craters and the surrounding landscape.