Reventador volcano, Ecuador: news & activity updates
Reventador Volcano Volcanic Ash Advisory: VA IS NOT SEEN IN STLT OR RPRTD
Wed, 17 Jul 2019, 06:30
06:30 AM | BY: VN
Volcanic Ash Advisory Center Washington (VAAC) issued the following report:
FVXX21 at 06:20 UTC, 17/07/19 from KNES
VA ADVISORY
DTG: 20190717/0617Z
VAAC: WASHINGTON
VOLCANO: REVENTADOR 352010
PSN: S0005 W07739
AREA: ECUADOR
SUMMIT ELEV: 11686 FT [3562 M]
ADVISORY NR: 2019/767
INFO SOURCE: GOES-EAST. WEB CAM. VOLCAT.
ERUPTION DETAILS: VA IS NOT SEEN IN STLT OR RPRTD
OBS VA DTG: 17/0550Z
OBS VA CLD: VA NOT IDENTIFIABLE FROM SATELLITE
DATA.
FCST VA CLD +6HR: NO VA EXP
FCST VA CLD +12HR: NO VA EXP
FCST VA CLD +18HR: NO VA EXP
RMK: VA IS NOT SEEN IN STLT OR WEB CAM. NO
FURTHER RPRTS HAVE BEEN RECEIVED. ...KIBLER
NXT ADVISORY: NO FURTHER ADVISORIES
Previous news
More on VolcanoDiscovery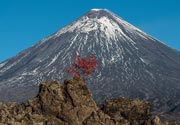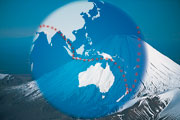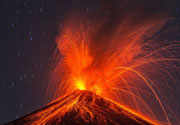 Fuego volcano photos
: One of Central America's most active volcanoes, Fuego in Guatemala is in near-permanent explosive eruption with intermittent phases of increasing activity that generate lava fountains, lava flows and pyroclastic flows.