Rincón de la Vieja volcano, Costa Rica: activity updates
Rincón de la Vieja volcano (Costa Rica) activity update: small phreatic eruption on 11 April
Thu, 12 Apr 2012, 10:05
10:05 AM | BY: T
Over the past weeks, the National Park of Rincón de la Vieja has been observing an increase in volcanic activity, and a small phreatic eruption occurred from the main crater on 11 April.
Previous news
New phreatic explosions were recorded at Rincón de la Vieja volcano in northern Costa Rica. ...
read all
More on VolcanoDiscovery
">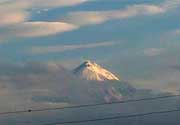 ">Latest volcano webcam image
: Many volcanoes can be observed in real-time using webcams. Look at the latest images collected from our
volcano webcam viewer tool
.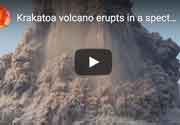 Krakatoa explodes
: In the afternoon of 17 Oct, a particularly violent explosion occurred at Anak Krakatau, blasting away a portion of the southern crater rim. A similar event might have been the final trigger for the catastrophic landslide that let the cone collapse and cause a devastating tsunami on 22 Dec 2018.