Flores вулкан
stratovolcano, phreatomagmatic craters 915 m
Azoren, Portugal, 39.44°N / -31.23°W
Текущее состояние: normal or dormant (1 из 5)
Flores Island and Corvo Island to its north are located far west of the rest of the Azores islands and are the only two Azorean volcanoes lying west of the Mid-Atlantic Ridge.
Показать интерактивную карту
Типичный извержения стиль
: ВЗРЫВООПАСНЫЕ
Flores Вулкан-извержения
: 2900 years ago
Нет недавних землетрясений
| | | |
| --- | --- | --- |
| Время | Магнитуда / Глубина | Расстояние/Местоположение |
Справочная информация
The 10 x 15 km island of Flores is dotted by numerous pyroclastic cones and craters. Several young phreatomagmatic craters and associated lava flows were erupted during the Holocene, including two about 3000 years ago. The Caldeira Funda de Lajes tuff ring formed about 3150 years ago, accompanied by a lava flow that traveled to the SE, reaching the coast at Lajes. The Caldeira Comprida tuff ring in Caldeira Seca, west-central Flores, erupted about 2900 years ago. It produced a lava flow that traveled NW-ward and reached the coast at Faja Grande.

Source: Smithsonian GVP
Flores Фото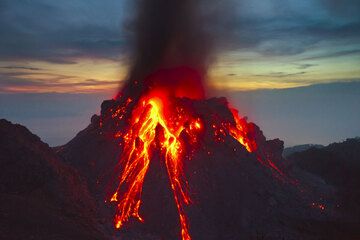 Светящийся лавины и пепла, вентилирования в сумерках 1 декабря часть старых 1982 Rokatenda лавы купола в изображении слева (Photo: Tom Pfeiffer)...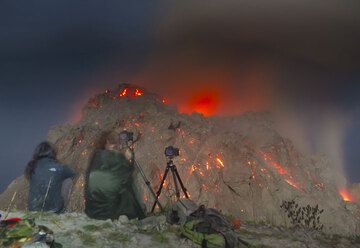 Melissa and Richard observing the dome illuminated by moonlight (1 Dec) (Photo: Tom Pfeiffer)

See also: Sentinel hub | Landsat 8 | NASA FIRMS