Fuego volcano news & eruption updates:
Вулкан Fuego: Консультативный центр по вулканическому пеплу: VA SEEN IN STLT AND VOLCAT.
Вт, 21 янв 2020, 02:45
02:45 AM | ПЇЅПЇЅПЇЅПЇЅПЇЅ: VN
Спутниковое изображение вулкана Fuego 21 Jan 2020
Эруптивная активность продолжается. Консультативный центр по вулканическому пеплу (VAAC) в Washington предупредил о шлейфе вулканического пепла, который поднялся на высоту 15000 футов (4600 m).
Полный отчет выглядит следующим образом:
FVXX20 at 02:33 UTC, 21/01/20 from KNES
VA ADVISORY
DTG: 20200121/0230Z
VAAC: WASHINGTON
VOLCANO: FUEGO 342090
PSN: N1428 W09052
AREA: GUATEMALA
SUMMIT ELEV: 12346 FT [3763 M]
ADVISORY NR: 2020/031
INFO SOURCE: GOES-EAST. NWP MODELS. VOLCAT.
ERUPTION DETAILS: VA SEEN IN STLT AND VOLCAT.
OBS VA DTG: 21/0210Z
OBS VA CLD: SFC/FL150 N1432 W09053 - N1427 W09052
- N1420 W09105 - N1428 W09108 - N1432 W09053 MOV
SW 10-15KT
FCST VA CLD +6HR: 21/0800Z SFC/FL150 N1432 W09053
- N1428 W09052 - N1418 W09117 - N1429 W09119 -
N1432 W09053
FCST VA CLD +12HR: 21/1400Z SFC/FL150 N1433
W09122 - N1432 W09053 - N1426 W09053 - N1420
W09122 - N1433 W09122
FCST VA CLD +18HR: 21/2000Z SFC/FL150 NO ASH EXP
RMK: VA EMS SEEN IN STLT IMAGERY MOV WSW AND
EXTDG 15 NM FM SUMMIT. VOLCAT ALERT. MODEL
GUIDANCE SHOWS A CONT W-LY MOV THRU T+6 HRS. HGT
AND MOV BASED ON STLT, VOLCAT AND NWP. ...KIBLER
NXT ADVISORY: WILL BE ISSUED BY 20200121/0830Z
Подробнее о VolcanoDiscovery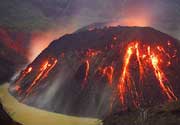 Kelut volcano photos
: A new lava dome grew inside the crater lake during the effusive eruption in late 2007, replacing most of the lake. Watch the birth of a new mountain!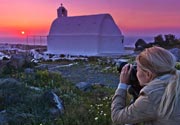 Photo Expeditions & Photography Tours
: We offer you a fine selection of photo tours to exceptional places guided by experienced photographers. These tours are ideal if you are interested in learning or improving photography or, if you are an experienced photographer yourself, to get to the best locations at the best times.