Mayon volcano: eruption news and updates
Mayon volcano Volcanic Ash Advisory: PLEASE SEE FVFE01 RJTD 221803 OBS VA DTG: 22/1810Z
Понедельник янв 22, 2018 18:15 |
Volcanic Ash Advisory Center Darwin (VAAC) issued the following report:
FVAU0190 at 18:08 UTC, 22/01/18 from ADRM
VA ADVISORY
DTG: 20180122/1810Z
VAAC: DARWIN
VOLCANO: MAYON 273030
PSN: N1315 E12341
AREA: PHILIPPINES
SUMMIT ELEV: 2462M
ADVISORY NR: 2018/6
INFO SOURCE: VAAC TOKYO
AVIATION COLOUR CODE: UNKNOWN
ERUPTION DETAILS: PLEASE SEE FVFE01 RJTD 221803
OBS VA DTG: 22/1810Z
OBS VA CLD:
FCST VA CLD +6 HR: 23/0010Z NOT AVBL
FCST VA CLD +12 HR: 23/0610Z NOT AVBL
FCST VA CLD +18 HR: 23/1210Z NOT AVBL
RMK: PLEASE SEE FVFE01 RJTD 221803 ISSUED BY VAAC TOKYO
WHICH DESCRIBES CONDITIONS NEAR THE VAAC DARWIN AREA OF
RESPONSIBILITY
NXT ADVISORY: NO LATER THAN 20180123/0010Z
Предыдущие новости
Подробнее о VolcanoDiscovery
If you find the website useful and would like to support us and help keep it alive and improve it, please consider
making a small donation
.
Thank you!
Desert, Salt & Volcanoes
: Experience one of the geologically most active areas on the planet: the Danakil desert in northern Ethiopia. Highlights include Erta Ale volcano with its active lava lake and Dallol hydrothermal fields offering a surreal landscape of colors, salt, geysers and springs.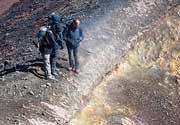 Private tours on Etna volcano
: Discover Europe's largest active volcano on private, guided 1-day tours. Tours can be customized for different interests and fitness levels.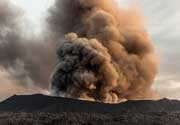 Dukono volcano photos
: Dukono on Halmahera in Indonesia has been in permanent activity for years, often producing ash plumes that drift around the northern part of the island and have become normality.