Nakano-shima вулкан
стратовулканов 979 m / 3,212 ft
Ryukyu Islands, Япония, 29.86°N / 129.86°E
Текущее состояние: normal or dormant (1 из 5)
Nakano-shima volcano is a stratovolcano forming the 9 x 5 km island of the same name, which belongs to the Ryukyu Island chain in southern Japan.
The island is surrounded by coral reefs, but unlike older extinct ocean islands that sink and form reefs Nakano-shima's volcano is active. There are no known magmatic eruptions in historic times, but a small mud eruption occurred in 1914, and increased "smoking" was seen in 1949.
Типичный извержения стиль
: explosive
Nakano-shima Вулкан-извержения
: 1949 (uncertain), 1914 (phreatic explosions)
Latest nearby earthquakes
Время
Магнитуда / Глубина
Расстояние/Местоположение
Tue, 15 Jun 2021 (GMT) (1 Землетрясение)
Jun 15, 2021 13:19:36.81

(15 Jun 2021 04:19:36 GMT)




3.0


90 km
9.8 km (6.1 mi)
Восточно-Китайское море, 86 km к юго-западу от Мияноура, Япония
Sun, 13 Jun 2021 (GMT) (1 Землетрясение)
Jun 14, 2021 06:53:57.20

(13 Jun 2021 21:53:57 GMT)




3.1


117 km
10.1 km (6.3 mi)
Восточно-Китайское море, 85 km к юго-западу от Kuchinoerabu-jima , Япония
Mon, 7 Jun 2021 (GMT) (1 Землетрясение)
Jun 08, 2021 00:38:07.32

(7 Jun 2021 15:38:07 GMT)




2.9


119 km
13 km (8.1 mi)
Восточно-Китайское море, 87 km к юго-западу от Kuchinoerabu-jima , Япония
Справочная информация
An older, eroded volcano forms the southern half of the island and a flat plateau separates it from the present-day active volcano which forms the northern half and has an andesitic cone called On-take.
On-take contains a summit crater that is filled with water during the rainy season. Sulfur deposits were mined at a SE-flank solfatara until 1944.
Nakano-shima Фото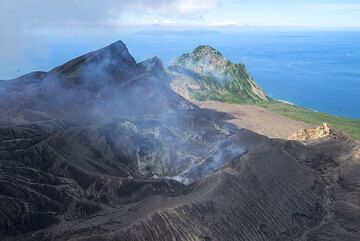 View over the crater of Mt Ontake volcano on Suwanose-jima; Nakano-jima island in the background to the NE. (Photo: Tom Pfeiffer)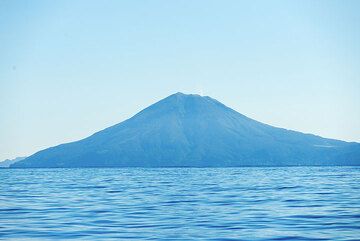 View of Mt Ontake stratovolcano of Nakano-jima volcano, Suwanose-jima's neighbor to the northeast. A gas plume can be seen rising from the summit crater, suggesting the v...

See also: Sentinel hub | Landsat 8