Подробнее о VolcanoDiscovery: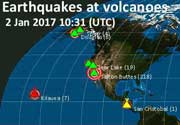 Earthquakes near Volcanoes
: Our world-wide map continuously detects shallow earthquakes near volcanoes. These could be early signs of unrest and often precede eruptions.
Tropical rainforest, coconut palm beaches, primitive culture and moon-like landscapes, and some of the
world's most active and exciting volcanoes
. Join us on our
expedition to Vanuatu
.
Active volcanoes map
: Check which volcanoes are currently active (erupting). Our daily updated maps give a quick overview.