Planchón-Peteroa volcano news & activity updates
Вулкан Planchón-Peteroa: Консультативный центр по вулканическому пеплу: NO VA DETECTED
Вт, 8 янв 2019, 22:00
22:00 PM | ПЇЅПЇЅПЇЅПЇЅПЇЅ: VN
Спутниковое изображение вулкана Planchón-Peteroa 8 Jan 2019
Консультативный центр по вулканическому пеплу (VAAC) в Buenos Aires выпустил следующий отчет:
FVAG02 at 21:46 UTC, 08/01/19 from SABM
VA ADVISORY
DTG: 20190108/2130Z
VAAC: BUENOS AIRES
VOLCANO: PLANCHON PETEROA 357040
PSN: S3514 W07034
AREA: CHILE
SUMMIT ELEV: 13474 FT [4107 M]
ADVISORY NR: 2019/033
INFO SOURCE: GOES-E. GFS WINDS. VOLCANO WEB
CAMERA.
AVIATION COLOR CODE: NOT GIVEN
ERUPTION DETAILS: NO VA DETECTED
OBS VA DTG: 08/2030Z
OBS VA CLD: VA NOT IDENTIFIABLE FM STLT DATA
WINDS FL140 350/60KT - FL160 300/55KT - FL180
280/60KT
FCST VA CLD +6HR: 09/0230Z NOT AVBL
FCST VA CLD +12HR: 09/0830Z NOT AVBL
FCST VA CLD +18HR: 09/1430Z NOT AVBL
RMK: VA NOT IDENTIFIABLE FM STLT DATA NOR WEBCAM
DUE TO WX CLDS CVR HINDERING OBSERVATION. ...SMN
NXT ADVISORY: WILL BE ISSUED BY 20190109/0330Z=
Предыдущие новости
Подробнее о VolcanoDiscovery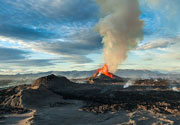 Photos from Iceland
: Volcanoes in the land of fire and ice. Iceland is one of the volcanically most active places on earth.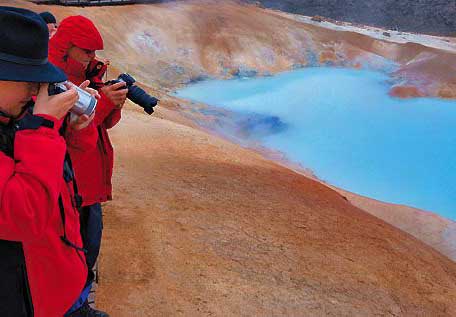 Colors of Iceland
: Discover Iceland's fascinating geology and volcanic activity on this relaxed photo and geo tour!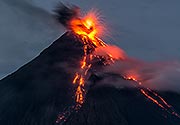 Mayon volcano photos
: Mayon on Luzon Island, towering above Legazpi city is famous for being one of the most perfectly symmetrical stratovolcanoes in the world. It is also one of the most active and most dangerous volcanoes (not only) in the Philippines.