Volcano news: Poás volcano, Costa Rica
Вулкан Poas: Консультативный центр по вулканическому пеплу: RPRT OF VA EMS BY OVSICORI-UNA
Понедельник мар 18, 2019 19:00 | ПЇЅПЇЅПЇЅПЇЅПЇЅ: VN
Консультативный центр по вулканическому пеплу (VAAC) в Washington выпустил следующий отчет:
FVXX20 at 18:55 UTC, 18/03/19 from KNES
VA ADVISORY
DTG: 20190318/1848Z
VAAC: WASHINGTON
VOLCANO: POAS 345040
PSN: N1012 W08414
AREA: COSTA.RICA
SUMMIT ELEV: 8884 FT [2708 M]
ADVISORY NR: 2019/024
INFO SOURCE: OVSICORI-UNA.
ERUPTION DETAILS: RPRT OF VA EMS BY OVSICORI-UNA
RMK: WE HAVE RECEIVED INFORMATION SUGGESTING A
POSSIBLE VA EMISSION. WE WILL GATHER FURTHER
INFORMATION AND ISSUE A FULL ADVISORY AS SOON AS
POSSIBLE.
NXT ADVISORY: AS SOON AS POSSIBLE
Предыдущие новости
Подробнее о VolcanoDiscovery: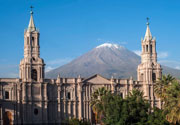 Volcanoes of Peru
: Our 12-days itinerary includes some of the most beautiful and interesting sights around Arequipa from "volcanic point of view": La Laguna de Salinas, El Misti, Ubinas, Picchu Picchu, Andagua Valley, Colca Canyon, and currently erupting Sabancaya volcano.
Become a supporter
: To continue to run this website full of free information about earthquakes and volcanoes to you, we also need to pay our developer, servers and in addition, we spend lots of our free time on it. If you enjoy it, we will greatly appreciate your support. If you like, you can send us a small donation.