Popocatepetl volcano news & eruption update
Popocatépetl volcano (Central Mexico) activity update
Четверг янв 31, 2013 17:35 | АВТОР: T
Popocatépetl last night (CENAPRED webcam)
Свечение остается ярко видны ночью. Слабой паровой/газ/ясень выбросов составлял примерно 1 час со вчерашнего дня.
Предыдущие новости
Background:
Volcán Popocatépetl, whose name is the Aztec word for smoking mountain, towers to 5426 m 70 km SE of Mexico City to form North America's 2nd-highest volcano.  The glacier-clad stratovolcano contains a steep-walled, 250-450 m deep crater.  The generally symmetrical volcano is modified by the sharp-peaked Ventorrillo on the NW, a remnant of an earlier volcano. 
At least three previous major cones were destroyed by gravitational failure during the Pleistocene, producing massive debris-avalanche deposits covering broad areas south of the volcano.  The modern volcano was constructed to the south of the late-Pleistocene to Holocene El Fraile cone.  Three major plinian eruptions, the most recent of which took place about 800 AD, have occurred from Popocatépetl since the mid Holocene, accompanied by pyroclastic flows and voluminous lahars that swept basins below the volcano.  Frequent historical eruptions, first recorded in Aztec codices, have occurred since precolumbian time.
---
Source: GVP, Smithsonian Institution - Popocatepetl information
Подробнее о VolcanoDiscovery: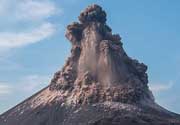 Eruption from close
: On 17 Oct, explosions were particularly violent at Anak Krakatau. We show a series of images of a spectacular explosion captured from close range by boat.
Guatemala photos
: Guatemala - a land of volcanoes and the colorful Mayan culture with incredible variety. A dream destination for volcano enthusiasts and photographers!
Photos from Kilauea volcano: lava flowing into the sea