Reventador volcano, Ecuador: news & activity updates
Reventador volcano (Ecuador): eruption continues with lava flows
Пт, 14 авг 2020, 09:10
09:10 AM | ПЇЅПЇЅПЇЅПЇЅПЇЅ: MARTIN
Thermal image of the lava flow from Reventador volcano (image: IGEPN)
Effusive-explosive eruption of the volcano continues.
IGEPN reported that
the lava flow continues to be active on the northeastern slopes
of the volcano, currently about 200 m long.
Explosive activity continues associated with blocks ejected away from the crater towards the northeast direction. Near-constant ash emissions reached up to
15,000 ft (4,600 m)
altitude and drifted west.
Incandescence continues to be observed from the summit crater.
Source: Instituto Geofísico volcano activity update 14 August 2020
Предыдущие новости
Подробнее о VolcanoDiscovery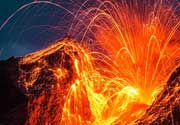 Batu Tara photos
: A remote island in the Flores Sea of Indonesia formed by a single volcano that has been in strong strombolian eruption for years. We regularly lead expeditions to there where we camp several days to observe it.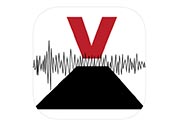 Volcanoes & Earthquakes
: Our popular app is now also available for iPhone and iPad! Get the latest volcano news and earthquakes world-wide - it's free!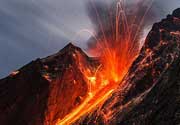 Tours to erupting volcanoes
: From time to time, we organize special tours to see volcanoes in eruption. These are often announced only few days or weeks in advance. Find out more!