Sabancaya volcano news & activity updates:
Вулкан Sabancaya: непрерывные выбросы пепла
Чт, 22 окт 2020, 00:15
00:15 AM | ПЇЅПЇЅПЇЅПЇЅПЇЅ: VN
Эруптивная активность продолжается. Консультативный центр по вулканическому пеплу (VAAC) в Buenos Aires предупредил о шлейфе вулканического пепла, который поднялся на высоту 23000 футов (7000 m) и движется со скоростью 15 узлов в SE направлении.
Полный отчет выглядит следующим образом:
FVAG01 at 00:07 UTC, 22/10/20 from SABM
VA ADVISORY
DTG: 20201022/0015Z
VAAC: BUENOS AIRES
VOLCANO: SABANCAYA 354006
PSN: S1547 W07150
AREA: PERU
SUMMIT ELEV: 19576 FT [5967 M]
ADVISORY NR: 2020/1244
INFO SOURCE: GOES-E. GFS. WEBCAM.
AVIATION COLOUR CODE: NOT GIVEN
ERUPTION DETAILS: CONTINUOUS EMISSION
OBS VA DTG: 21/2330Z
OBS VA CLD: SFC/FL230 S1546 W07151 - S1555 W07141
- S1558 W07146 - S1546 W07151 MOV SE 15KT
FCST VA CLD +6 HR: 22/0530Z SFC/FL230 S1546 W07150
- S1559 W07129 - S1604 W07141 - S1546 W07150
FCST VA CLD +12 HR: 22/1130Z SFC/FL230 S1546
W07150 - S1601 W07125 - S1608 W07131 - S1546
W07150
FCST VA CLD +18 HR: 22/1730Z SFC/FL230 S1546
W07152 - S1602 W07123 - S1608 W07123 - S1546
W07152
RMK: A FAINT VA PLUME IS DETECTED IN STLT IMAGERY
PARTIALLY HINDERED BY WX CLDS. WEBCAM SHOWS
CONTINUOUS EMISSIONS OF STEAM AND INTERMITTENT
PUFF OF VA ...SMN
NXT ADVISORY: WILL BE ISSUED BY 20201022/0615Z=
Предыдущие новости
Подробнее о VolcanoDiscovery
If you find the website useful and would like to support us and help keep it alive and improve it, please consider
making a small donation
.
Thank you!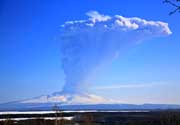 Volcano Special expedition
: Special tour to see the ongoing eruption of Shivleuch volcano. Max 6 participants, 5 nights on location, accompanied by our team and local volcanologists. Sign up deadline Sun 24 Feb 2019!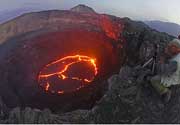 Desert, Salt & Volcanoes
: One of our best volcano expeditions! Stay 3 full days / nights at the active lava lake of Erta Ale, explore the wonders of Dallol and the Danakil desert in northern Ethiopia. 14 days expedition during Nov-March, small groups, guided by geologist.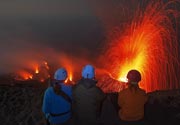 VolcanoDiscovery tours
: A selection of our most popular trips, which we have been offering and improving over many years now: Stromboli & Etna, Santorini, Java, Ethiopia, Nyiragongo and more. Have a look!