Sabancaya volcano news & activity updates:
Вулкан Sabancaya: Консультативный центр по вулканическому пеплу: SPORADIC PUFF EMISSIONS
Вт, 15 янв 2019, 21:30
21:30 PM | ПЇЅПЇЅПЇЅПЇЅПЇЅ: VN
Спутниковое изображение вулкана Sabancaya 15 Jan 2019
Консультативный центр по вулканическому пеплу (VAAC) в Buenos Aires выпустил следующий отчет:
FVAG01 at 21:14 UTC, 15/01/19 from SABM
VA ADVISORY
DTG: 20190115/2115Z
VAAC: BUENOS AIRES
VOLCANO: SABANCAYA 354006
PSN: S1547 W07150
AREA: PERU
SUMMIT ELEV: 19576 FT [5967 M]
ADVISORY NR: 2019/063
INFO SOURCE: GOES-E. GFS WINDS. VOLCANO WEB
CAMERA.
AVIATION COLOR CODE: NOT GIVEN
ERUPTION DETAILS: SPORADIC PUFF EMISSIONS
OBS VA DTG: 15/2030Z
OBS VA CLD: VA NOT IDENTIFIABLE FROM SATELLITE
DATA
WINDS FL180 090/5KT - FL240 050/10KT - FL300
090/20KT
FCST VA CLD +6HR: 16/0230Z NOT AVBL
FCST VA CLD +12HR: 16/0830Z NOT AVBL
FCST VA CLD +18HR: 16/1430Z NOT AVBL
RMK: VA PLUME NOT SEEN IN STLT IMAGERY DUE TO WX
CLD COVER HINDERING OBSERVATION. THERE IS SLIGHT
INDICATION OF SPORADIC PUFF EMISSIONS ON WEBCAM,
MOSTLY HIDDEN BY WX CLDS. ...SMN
NXT ADVISORY: WILL BE ISSUED BY 20190116/0315Z=
Подробнее о VolcanoDiscovery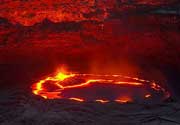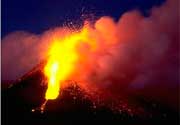 Definition of a volcano
: A volcano is the term for any place on the surface of the earth, where hot molten rock (magma) reaches the surface.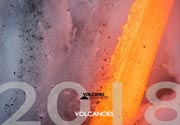 Volcano Calendar 2018
: We're proud to present our 2018 volcano calendar: 13 different and attractive images of volcanoes, volcanic landscapes and phenomena taken during volcano tours over the past few years.