Sakurajima volcano news
Sakurajima volcano Volcanic Ash Advisory: ERUPTED AT 20171204/0945Z FL080 EXTD SE OBS VA DTG: 04/0940Z
Пн, 4 дек 2017, 10:15
10:15 AM |
Satellite image of Sakurajima volcano on 4 Dec 2017
Volcanic Ash Advisory Center Tokyo (VAAC) issued the following report:
FVFE01 at 09:59 UTC, 04/12/17 from RJTD
VA ADVISORY
DTG: 20171204/0959Z
VAAC: TOKYO
VOLCANO: SAKURAJIMA [AIRA CALDERA] 282080
PSN: N3136 E13039
AREA: JAPAN
SUMMIT ELEV: 1117M
ADVISORY NR: 2017/371
INFO SOURCE: HIMAWARI-8 JMA
AVIATION COLOUR CODE: NIL
ERUPTION DETAILS: ERUPTED AT 20171204/0945Z FL080 EXTD SE
OBS VA DTG: 04/0940Z
OBS VA CLD: VA NOT IDENTIFIABLE FM SATELLITE DATA WIND FL080 290/32KT
FCST VA CLD +6 HR: NOT AVBL
FCST VA CLD +12 HR: NOT AVBL
FCST VA CLD +18 HR: NOT AVBL
RMK: WE WILL ISSUE FURTHER ADVISORY IF VA IS DETECTED IN SATELLITE
IMAGERY.
NXT ADVISORY: NO FURTHER ADVISORIES=
Предыдущие новости
Подробнее о VolcanoDiscovery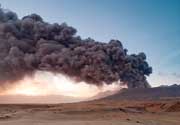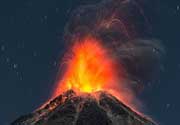 Volcano Special Tours
: We organize tours to particularly active volcanoes and during ongoing eruptions for extended observation time from various viewpoints. These trips, exclusively for very small groups, are often announced only at short notice and require fast travel and flexibility. Each trip is accompanied by a volcanologist from our team. Examples include: Kilauea (Hawai'i), Colima (Mexico), Krakatau and many others.