Semeru volcano news & eruption updates
Вулкан Semeru: Консультативный центр по вулканическому пеплу: DISCRETE ERUPTION TO FL140 OBS AT 09/1720Z MOV SW
Ср, 9 сен 2020, 18:15
18:15 PM | ПЇЅПЇЅПЇЅПЇЅПЇЅ: VN
Спутниковое изображение вулкана Semeru 9 Sep 2020
Эруптивная активность продолжается. Консультативный центр по вулканическому пеплу (VAAC) в Darwin предупредил о шлейфе вулканического пепла, который поднялся на высоту 14000 футов (4300 m).
Полный отчет выглядит следующим образом:
FVAU02 at 18:10 UTC, 09/09/20 from ADRM
VA ADVISORY
DTG: 20200909/1810Z
VAAC: DARWIN
VOLCANO: SEMERU 263300
PSN: S0806 E11255
AREA: INDONESIA
SUMMIT ELEV: 3676M
ADVISORY NR: 2020/189
INFO SOURCE: HIMAWARI-8
AVIATION COLOUR CODE: ORANGE
ERUPTION DETAILS: DISCRETE ERUPTION TO FL140 OBS AT 09/1720Z
MOV SW
OBS VA DTG: 09/1810Z
OBS VA CLD: SFC/FL140 S0807 E11256 - S0824 E11237 - S0815
E11231 - S0805 E11255 MOV SW 10KT
FCST VA CLD +6 HR: 10/0010Z SFC/FL140 S0808 E11256 - S0810
E11230 - S0751 E11235 - S0805 E11257
FCST VA CLD +12 HR: 10/0610Z NO VA EXP
FCST VA CLD +18 HR: 10/1210Z NO VA EXP
RMK: SMALL VA EMISSION OBS ON LATEST RGB IMG. VA HEIGHT AND
FORECAST BASED ON HIMAWARI-8 IMAGERY AND MODEL GUIDANCE.
FURTHER EMISSIONS ARE POSSIBLE, VA EXPECTED TO DISSIPATE
WITHIN 12HRS.
NXT ADVISORY: NO LATER THAN 20200909/2330Z
Предыдущие новости
Подробнее о VolcanoDiscovery
If you find the website useful and would like to support us and help keep it alive and improve it, please consider
making a small donation
.
Thank you!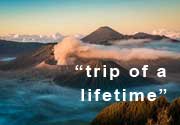 What clients have said
: Browse through feedback about our tours from customers, read what they have said about us!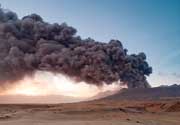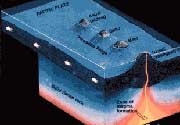 Intraplate volcanism
: A third tectonic setting where volcanism occurs is believed to be the result of mantle plumes and not directly related to plate boundaries. So called hot spot volcanoes fall into this category.