Semeru volcano Volcanic Ash Advisory: POSSIBLE STEAM/VA ERUPTION TO FL130 OBS MOV SSW AT 19/0130Z.
Ср, 19 сен 2018, 20:00
20:00 PM |
Satellite image of Semeru volcano on 19 Sep 2018
Volcanic Ash Advisory Center Darwin (VAAC) issued the following report:
FVAU0300 at 19:54 UTC, 19/09/18 from ADRM
VA ADVISORY
DTG: 20180919/1955Z
VAAC: DARWIN
VOLCANO: SEMERU 263300
PSN: S0806 E11255
AREA: INDONESIA
SUMMIT ELEV: 3676M
ADVISORY NR: 2018/48
INFO SOURCE: HIMAWARI-8
AVIATION COLOUR CODE: ORANGE
ERUPTION DETAILS: POSSIBLE STEAM/VA ERUPTION TO FL130 OBS
MOV SSW AT 19/0130Z.
EST VA DTG: 19/1955Z
EST VA CLD: SFC/FL130 S0755 E11252 - S0803 E11307 - S0821
E11304 - S0834 E11243 - S0809 E11228 MOV SW 5KT
FCST VA CLD +6 HR: 20/0155Z SFC/FL130 S0803 E11303 - S0822
E11306 - S0835 E11242 - S0807 E11224 - S0757 E11250
FCST VA CLD +12 HR: 20/0755Z SFC/FL130 S0803 E11305 - S0755
E11252 - S0805 E11224 - S0836 E11241 - S0822 E11307
FCST VA CLD +18 HR: 20/1355Z SFC/FL130 S0803 E11305 - S0823
E11309 - S0834 E11242 - S0805 E11225 - S0755 E11252
RMK: POSSIBLE STEAM/ASH ERUPTION CURRENTLY OBSCURED BY MET
CLOUD. HEIGHT BASED ON OBS PLUME MOVEMENT AND MODEL WINDS.
FORECAST BASED ON MODEL GUIDANCE. LIGHT AND VARIABLE WINDS
MAKE FORECAST CONFIDENCE LOW.
NXT ADVISORY: NO LATER THAN 20180920/0155Z
Предыдущие новости
Подробнее о VolcanoDiscovery
If you find the website useful and would like to support us and help keep it alive and improve it, please consider
making a small donation
.
Thank you!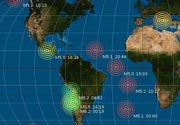 Monthy earthquake reports
: For each month since July 2012, we publish a summary of quake activity world-wide: find the list of largest quake, a map showing all significant quakes as well as detailed statistics on seismic activity during this time.
Photos taken on our
our tours.
- volcano adventures, group photos, expedition and camp life, people and impressions.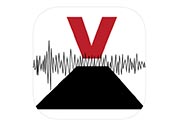 Volcanoes & Earthquakes
: Our popular app is now also available for iPhone and iPad! Get the latest volcano news and earthquakes world-wide - it's free!