News from Ubinas volcano:
Вулкан Ubinas: Консультативный центр по вулканическому пеплу: NOT IDENTIFIABLE
Ср, 24 июл 2019, 06:30
06:30 AM | ПЇЅПЇЅПЇЅПЇЅПЇЅ: VN
Консультативный центр по вулканическому пеплу (VAAC) в Buenos Aires выпустил следующий отчет:
FVAG02 at 06:16 UTC, 24/07/19 from SABM
VA ADVISORY
DTG: 20190724/0620Z
VAAC: BUENOS AIRES
VOLCANO: UBINAS 354020
PSN: S1622 W07053
AREA: PERU
SUMMIT ELEV: 18609 FT [5672 M]
ADVISORY NR: 2019/030
INFO SOURCE: GOES-E. GFS WINDS.
AVIATION COLOR CODE: NOT GIVEN
ERUPTION DETAILS: NOT IDENTIFIABLE
OBS VA DTG: 24/0540Z
OBS VA CLD: VA NOT IDENTIFIABLE FROM SATELLITE DATA
WINDS FL180 310/40KT FL240 300/60KT FL300 300/70KT
FCST VA CLD +6HR: 24/1130Z NOT AVBL
FCST VA CLD +12HR: 24/1730Z NOT AVBL
FCST VA CLD +18HR: 24/2330Z NOT AVBL
RMK: VA NOT IDENTIFIABLE FM STLT DATA DUE WX CLDS
COVER...SMN
NXT ADVISORY: WILL BE ISSUED BY 20190724/1220Z=
Предыдущие новости
Подробнее о VolcanoDiscovery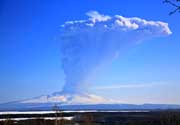 Volcano Special expedition
: Special tour to see the ongoing eruption of Shivleuch volcano. Max 6 participants, 5 nights on location, accompanied by our team and local volcanologists. Sign up deadline Sun 24 Feb 2019!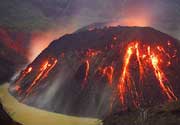 Kelut volcano photos
: A new lava dome grew inside the crater lake during the effusive eruption in late 2007, replacing most of the lake. Watch the birth of a new mountain!
Latest quakes in Greece
: Greece has a lot of earthquake activity, but most of them occur around the margin of the Aegean microplate. The Cycladic islands are located in its center and therefore seismically comparably quiet.