Ulawun volcano news
Вулкан Ulawun: Консультативный центр по вулканическому пеплу: ONGOING ERUPTION TO FL250 MOV SW 20KT OBS VA DTG: 03/0225Z
Сб, 3 авг 2019, 03:15
03:15 AM | ПЇЅПЇЅПЇЅПЇЅПЇЅ: VN
Эруптивная активность продолжается. Консультативный центр по вулканическому пеплу (VAAC) в Wellington предупредил о шлейфе вулканического пепла, который поднялся на высоту 25000 футов (7600 m) и движется со скоростью 20 узлов в SW направлении.
Полный отчет выглядит следующим образом:
FVAU05 at 02:34 UTC, 03/08/19 from NZKL
VA ADVISORY
DTG: 20190803/0225Z
VAAC: DARWIN
VOLCANO: ULAWUN 252120
PSN: S0503 E15120
AREA: PAPUA NEW GUINEA
SUMMIT ELEV: 2334M
ADVISORY NR: 2019/26
INFO SOURCE: HIMAWARI-8
AVIATION COLOUR CODE: RED
ERUPTION DETAILS: ONGOING ERUPTION TO FL250 MOV SW 20KT
OBS VA DTG: 03/0225Z
OBS VA CLD: SFC/FL250 S0503 E15121 - S0508 E15115 - S0508
E15110 - S0504 E15110 - S0501 E15121 MOV SW 20KT
FCST VA CLD +6 HR: 03/0825Z SFC/FL250 S0504 E15124 - S0549
E15032 - S0540 E15001 - S0500 E15019 - S0458 E15121
FCST VA CLD +12 HR: 03/1425Z SFC/FL250 S0503 E15124 - S0547
E15035 - S0540 E15000 - S0500 E15018 - S0458 E15121
FCST VA CLD +18 HR: 03/2025Z SFC/FL250 S0504 E15125 - S0548
E15037 - S0539 E15000 - S0500 E15019 - S0458 E15119
RMK: ERUPTION AT 03/0150Z CLEARLY OBS ON SATELLITE IMAGERY.
ERUPTION APPEARS TO BE ONGOING. HEIGHT AND FORECAST BASED ON
HIMAWARI-8 03/0200Z IMAGERY AND MODEL GUIDANCE.
NXT ADVISORY: NO LATER THAN 20190803/0325Z
Подробнее о VolcanoDiscovery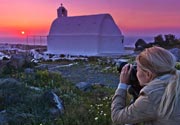 Photo Expeditions & Photography Tours
: We offer you a fine selection of photo tours to exceptional places guided by experienced photographers. These tours are ideal if you are interested in learning or improving photography or, if you are an experienced photographer yourself, to get to the best locations at the best times.
Green Volcanoes
: The Azores, a cluster of volcanic islands in the Atlantic Ocean, are famous for their very pleasant climate, breathtaking green and unspoiled landscapes and nature. They also have deep history and you'll find warm hospitality. Our new tour, guided by a photographer and volcanologist, will lead to five islands: Sao Miguel, Faial, Terceira, Pico and Flores - each with its distinct character to discover.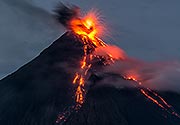 Mayon volcano photos
: Mayon on Luzon Island, towering above Legazpi city is famous for being one of the most perfectly symmetrical stratovolcanoes in the world. It is also one of the most active and most dangerous volcanoes (not only) in the Philippines.