Yasur вулкан
ВУЛКАН 361 m (1,184 ft)
Tanna Island, Vanuatu, -19.53°S / 169.44°E
Текущее состояние: извергающийся (4 из 5)
Last update: 27 Aug 2020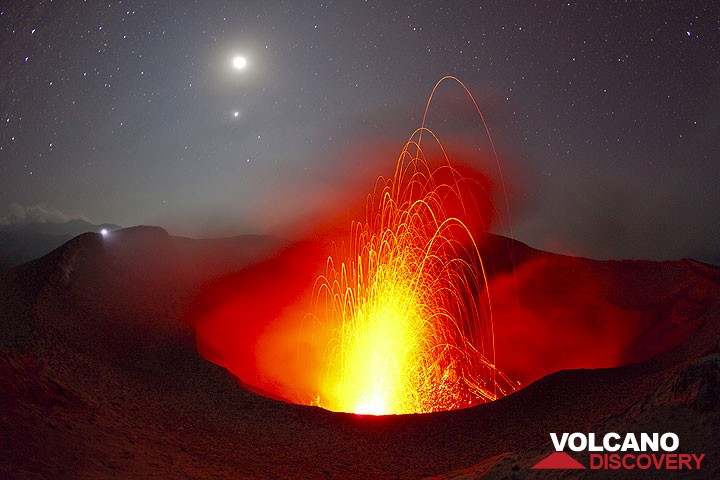 Yasur is the most well known volcanoes of Vanuatu and one of the most active volcanoes in the world. Yasur is known for its spectacular persistent strombolian activity that consists of regular small to violent explosions from one or several vents.
Типичный извержения стиль
: persistent strombolian activity
Yasur Вулкан-извержения
: ongoing since at least AD 1774 (but likely many centuries before)
Latest nearby earthquakes
Время
Магнитуда / Глубина
Расстояние
Местоположение
Sun, 18 Apr 2021 (GMT) (1 Землетрясение)
18 Apr 6:48 pm (GMT +11)

(18 Apr 2021 07:48:03 GMT)




4.7


105 km - Более
15 km
Коралловое море, 25 km к северо-востоку от Исангел, Вануату
Sat, 10 Apr 2021 (GMT) (1 Землетрясение)
10 Apr 3:15 pm (GMT +11)

(10 Apr 2021 04:15:59 GMT)




5.2


96 km - Более
62 km
Коралловое море, 53 km к югу от Исангел, Вануату
Справочная информация
Yasur, the best-known and most frequently visited of the Vanuatu volcanoes, has been in more-or-less continuous strombolian and vulcanian activity since Captain Cook observed ash eruptions in 1774. This style of activity may have continued for the past 800 years. Yasur, located at the SE tip of Tanna Island, is a mostly unvegetated 361-m-high pyroclastic cone with a nearly circular, 400-m-wide summit crater. Yasur is largely contained within the small Yenkahe caldera and is the youngest of a group of Holocene volcanic centers constructed over the down-dropped NE flank of the Pleistocene Tukosmeru volcano. The Yenkahe horst is located within the Siwi ring fracture, a 4-km-wide, horseshoe-shaped caldera associated with eruption of the andesitic Siwi pyroclastic sequence. Active tectonism along the Yenkahe horst accompanying eruptions of Yasur has raised Port Resolution harbor more than 20 m during the past century.
(source:
Global Volcansim Project
)
See also:
Sentinel hub
|
Landsat 8