Слабое землетрясение маг. 3.5 - 176 km к северо-востоку от Kotzebue, Нортуэст-Арктик, Аляска, Соединенные Штаты, Среда, 5 мая 2021 10:04 (GMT -8)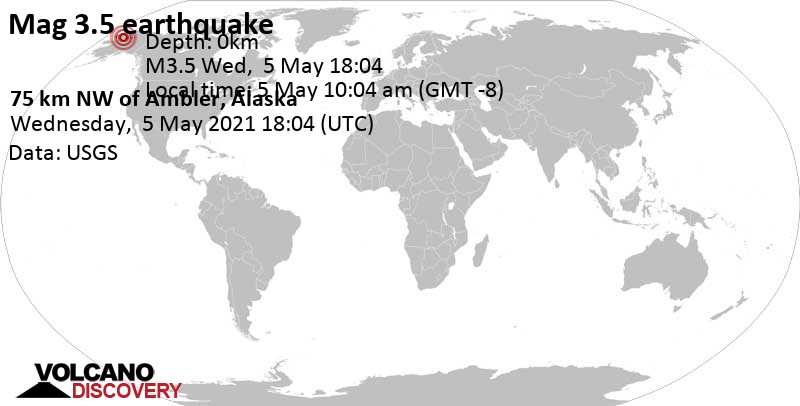 Слабое землетрясение маг. 3.5 на глубине 0 км
5 May 18:10 UTC: Первым сообщить: USGS через 6 минут.
Update Wed, 5 May 2021, 18:15
Magnitude 3.5 earthquake strikes near Ambler, Northwest Arctic, Alaska, USA
3.5 quake 5 May 10:04 am (GMT -8)
A magnitude 3.5 earthquake near Ambler, Northwest Arctic, Alaska, USA, was reported only 11 minutes ago by the United States Geological Survey, considered the key international and national agency that monitors seismic activity in the US. The earthquake occurred at a very shallow depth of miles beneath the epicenter in the morning on Wednesday 5 May 2021 at 10:04 am local time. The exact magnitude, epicenter, and depth of the quake might be revised within the next few hours or minutes as seismologists review data and refine their calculations, or as other agencies issue their report.
A second report was later issued by the European-Mediterranean Seismological Centre (EMSC), which listed it as a magnitude 3.5 earthquake as well.
According to preliminary calculations, we do not expect that the quake was felt by many people and did not cause any damage. In Ambler (pop. 270, 47 miles away), the quake was probably not felt.
Подробности землетрясения
Данные по одному и тому же землетрясению, предоставленные разными агентствами
Информация: чем больше агентств сообщают об одном и том же землетрясении и публикуют похожие данные, тем больше у вас доверия к этим данным. Обычно требуется до нескольких часов, прежде чем параметры землетрясения будут рассчитаны с почти оптимальной точностью.
| | | | |
| --- | --- | --- | --- |
| Магнитуда | Глубина | Местоположение | Источник |
| 3.5 | 0 km | 75 Km NW of Ambler, Alaska, USA | USGS |
| 3.4 | 30 km | NORTHERN ALASKA, USA | EMSC |
Seismograms
Seismic station: Redstone River, AK, USA (E19K/AK network)
| Distance from quake: 75 km / 46 mi |
Показать на карте
|
Station Info
Seismogram (vertical component) around time of quake. Thin dotted red line indicates time of quake. Seismic waves arrive some time later, depending on distance. Source:
IRIS Buffer of Uniform Data (BUD) webtool
Отчеты пользователей об этом землетрясении
There are no user reports for this quake.