Статус события: highly uncertain [?]
Неподтвержденное землетрясение или землетрясение: 6.5 km к юго-западу от Солт-Лейк-Сити, Солт-Лейк County, Юта, Соединенные Штаты, Суббота, 13 авг 2022 08:30 (GMT -6) -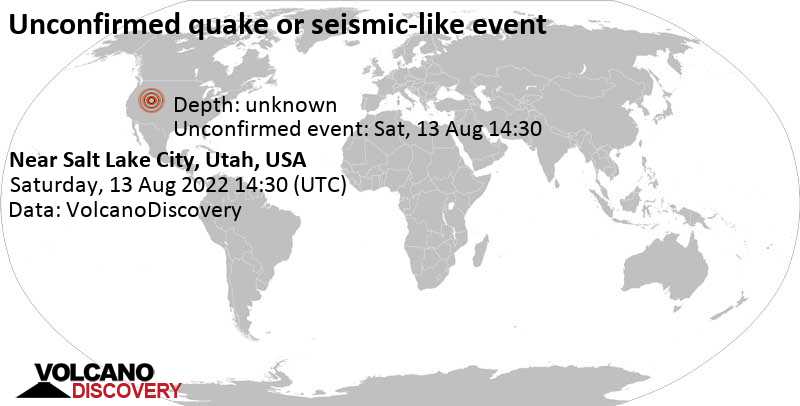 13 Aug 14:34 UTC: Первым сообщить: VolcanoDiscovery через 5 минут.
Update Sat, 13 Aug 2022, 14:41
Seismic-like event, possible earthquake, reported about 10 minutes ago near Salt Lake City, Utah, USA
We are receiving unverified early reports of ground shaking possibly caused by seismic activity in or near Salt Lake City, Utah, USA on 13 Aug 2022 (GMT) at approximately 14:30 GMT.
There are no details yet on the magnitude or depth of this possible quake. If confirmed, we can expect more accurate data to emerge in the next few minutes. The location, magnitude and time mentioned are indicative, based on our best-fit seismic model. They are temporary until our AllQuakes monitoring service receives more exact scientific data from a national or international seismological agency. Check back here shortly and stay safe.
Подробности землетрясения
Дата и время
13 Aug 2022 14:30:09 UTC -
Местное время

в эпицентре

Суббота, 13 авг 2022 08:30 (GMT -6)
Статус
highly uncertain
Величина
unknown (3.8?)
Глубина
20.0 km
Эпицентр

Широта / Долгота

40.71411°N / 111.9366°W (Солт-Лейк, Юта, Соединенные Штаты)
Antipode
40.714°S / 68.063°E
Интенсивность тряски
Слабая тряска рядом с эпицентром
Ощутил
0 отчетов
Источник данных
VolcanoDiscovery (Отчеты о встряхивании, представленные пользователями)
Ближайшие вулкана
Black Rock Desert (195 km / 121 mi)
Города поблизости
5 km (3 mi) N of Тейлорсвилл (pop: 60,500) |

На карте

| Землетрясения поблизости
6 km (4 mi) WNW of Millcreek (pop: 62,100) |

На карте

| Землетрясения поблизости
6 km (4 mi) ENE of Уэст-Валли-Сити (pop: 136,200) |

На карте

| Землетрясения поблизости
6 km (4 mi) SW of Солт-Лейк-Сити (pop: 192,700) |

На карте

| Землетрясения поблизости
7 km (4 mi) NW of Мюррей (pop: 49,300) |

На карте

| Землетрясения поблизости
8 km (5 mi) NE of Кернс (Salt Lake County) (pop: 35,700) |

На карте

| Землетрясения поблизости
12 km (7 mi) N of Уэст-Джордан (pop: 111,900) |

На карте

| Землетрясения поблизости
14 km (9 mi) NNW of Sandy (pop: 87,500) |

На карте

| Землетрясения поблизости
Погода в эпицентре

во время землетрясения

Clear Sky 21.9°C (71 F), humidity: 69%, wind: 3 m/s (6 kts) from S
Seismograms
Seismic station: Dugway, Tooele County, Utah, USA (DUG/US network)
| Distance from quake: 94 km / 58 mi |
Показать на карте
|
Station Info
Seismogram (vertical component) around time of quake. Thin dotted red line indicates time of quake. Seismic waves arrive some time later, depending on distance. Bandpass filter applied: 0.5-10.0 Hz. Source:
IRIS Buffer of Uniform Data (BUD) webtool
Отчеты пользователей об этом землетрясении
There are no user reports for this quake.